How To Use Internet Menu On Samsung Galaxy Tab 2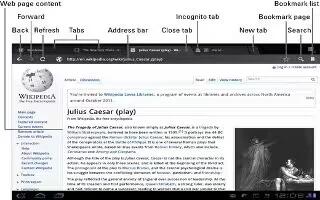 Learn how to use internet menu on Samsung Galaxy Tab 2. You should use Internet Menu options on your Samsung Galaxy Tab 2 for effective browsing.
While viewing a webpage, touch Menu for the following options:
New tab: Open the webpage in a new window, under a new tab.
New incognito tab: Open the webpage in a new window, under a new tab, and the pages you view in the new window will not appear in your browser history or search history. See the on-screen explanation of going incognito.
Add shortcut to home: Add the URL for this webpage as a shortcut on the first home screen.
Share page: Use Bluetooth, ChatON, Dropbox, Email, Gmail, Google+, or Wi-Fi Direct to send the webpage URL.
Find on page: Search for content on the current page.
Desktop view: Your browser displays a website in a modified format that makes it easier to read. Desktop view displays a website the same way it would appear on a PC.
Save for offline reading: Saves the webpage so you can read it later even when offline.
Downloads: View and manage recent downloads.
Print: Print the current screen or page to a Samsung printer.
Settings: Configure web settings.
Note
This article will work on both Samsung Galaxy Tabs; including Samsung Galaxy Tab 2 7.0 and Samsung Galaxy Tab 2 10.1.