How To Customize Internet Settings On Samsung Galaxy Tab 2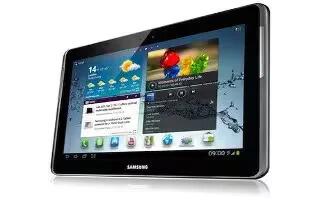 Learn how to customize internet settings on Samsung Galaxy Tab 2.Use the browser settings to customize the browser on your Samsung Galaxy Tab 2.
From the Home screen, touch Internet.
While viewing a webpage, touch Menu > Settings.
Customize the Browser by using the following options:
General
Set home page: View and set the default first page that displays when you launch Internet.
Form auto-fill: Enable or disable form auto-fill to complete Internet forms with a single click.
Auto-fill text: If Form auto-fill is enabled, set up the following information:

Full name: Enter your name.
Company name: Enter a company name.
Address line 1: Enter your address.
Address line 2: Enter any additional address information.
City/Town: Enter your city and town.
County: Enter your county.
Postcode: Enter your ZIP code.
Country: Enter your country.
Phone number: Enter your telephone number.
Email: Enter a valid email address.
Privacy and security
Clear cache: Delete content and databases stored on the device.
Clear history: Delete the list of previously-visited pages.
Show security warnings: When enabled, the browser warns you if there is a problem with a sites security.
Accept cookies: When enabled, allows the browser to save and read cookie information used by webpages.
Clear all cookie data: Delete cookie information saved to the device.
Remember form data: When enabled, stores information you enter into forms to make future forms easier.
Clear form data: Deletes saved form information.
Enable location: When enabled, sites you visit can request access to your location.
Clear location access: Clear location access for all websites.
Remember passwords: When enabled, saves user names and passwords for sites you visit, to make future visits easier.
Clear passwords: Clear all saved user names and passwords.
Enable notifications: Set web notifications access information as Always on, On demand, or Off.
Clear notifications: Remove web notification access information.
Accessibility
Force zoom: Override the website's request to control zoom.
Text size: Use the Preview field and the following controls to configure text size:

Scale text up and down: Scale the text size up or down using a slider bar.
Zoom amount on double tap: Set how much to zoom when you double-tap the screen, from 75 to 125 percent.
Minimum font size: Set the minimum font size, which can range from 1 point to 24 points.

Inverted screen rendering: Use the Preview screen and the following controls to configure inverted screen rendering:

Inverted rendering: Enable the display of websites with inverted colors black becomes white and vice versa.
Contrast: If Inverted rendering is enabled, use this slider to set the contrast, which can range from 100 to 300 percent.
Advanced
Select search engine: Choose a search engine from Google, Yahoo!, or Bing.
Open in background: When enabled, new windows open behind the current window.
Enable JavaScript: When enabled, Internet automatically runs JavaScript scripts on pages you visit.
Enable plug-ins: When enabled, Internet automatically loads and runs plug-ins on pages you visit.
Default storage: Select where Internet stores files.
Website settings: View and manage settings for individual websites.
Default zoom: Adjusts the zoom feature. Set to Far, Medium, or Close.
Open pages in overview: When enabled, displays an overview of newly-opened pages.
Auto-fit pages: When enabled, Internet automatically sizes webpages to fit your devices display.
Block pop-ups: When enabled, blocks pop-up windows.
Text encoding: Choose a default character set for webpages.
Reset to default: Clear all browser data and reset all settings to the factory defaults.
Bandwidth management
Preload search results: Enable the browser to preload high confidence search results in the background to help speed up searches. Options are: Never, Only via Wi-Fi, or Always.
Load images: When enabled, images are automatically loaded when you visit a page. When disabled, images are indicated by a link, which you can touch to download the picture.
Labs
Quick controls: When enabled, the Application and URL bars are hidden. To access the hidden controls, swipe inward from the left or right edge of the screen to access Quick Controls.
Google Instant: When enabled, you can use Google Instant when you use Google Search to show results as you type. Enabling this option can increase data use.
Note: This article will work on both Samsung Galaxy Tabs; including Samsung Galaxy Tab 2 7.0 and Samsung Galaxy Tab 2 10.1.