How To Use Email Settings - Samsung Galaxy Note Pro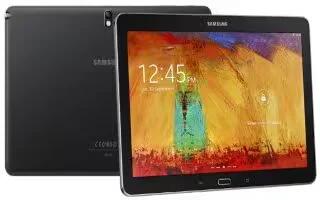 Learn how to use Email Settings on your Samsung Galaxy Note Pro. Use the Email Settings to configure your Email preferences.
Note: Available settings depend on the email provider.
Touch Email icon.
Touch Menu Key > Settings, then touch General settings. The following options display:

Display: Set how email is shown in the email list and when you open them.
Composing and sending: Set what functions are available while composing and sending email.
Auto-advance: Set the screen to show after deleting a message. Choices are: Next email, Previous email, or Email list.
Confirm deletions: Ask for confirmation before deleting email.
Priority senders: Enter email addresses that you want treated as a priority.
Spam addresses: Manage your spam address list.
Rules for filtering: Create rules for filtering email based on names, address, or subject.
Touch an account to configure specific settings. Available options depend on the account.
Composing and Sending Email
Touch Email icon. If you have multiple accounts set up, choose an account from the menu at the top of the screen.
Touch Compose icon, then touch fields to enter recipients and the email text. While composing a message:

Touch displayed buttons to set Priority, Tracking options, Security options, and so on.
Touch Attach icon to add a file to the message. Available options depend on the type of email account.
Touch the body of the email to enter the text of your email. Touch the text option buttons to edit and format your message text.
Touch Send icon to send the message.
Touch Save icon to save the email to the Drafts folder.