How To Use Email Settings - Samsung Galaxy Tab S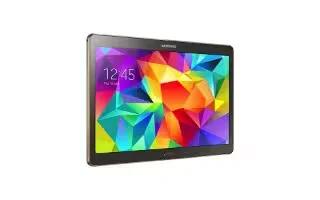 Learn how to use Email settings on your Samsung Galaxy Tab S. Change settings for managing and sending emails. On the Settings screen, tap Applications > Email.
General settings:

Display: Change the settings for displaying emails.
Composing and sending:
Default image size: Select the size of attachment when you attach an image.
Delay email sending: Set the time the device waits before sending emails after you tap the send button.
Default display: Set the device to open a specific screen after you delete emails.
Confirm deletions: Set the device to request a confirmation before deleting messages.
Priority senders: Change settings for priority senders.
Spam addresses: Add email addresses to block.

ACCOUNT SETTINGS: Manage existing email accounts or add new accounts.
Note

This guide will work on all Samsung Galaxy Tab S's; including Samsung Galaxy Tab S 8.4 and Samsung Galaxy Tab S 10.5.