How To Use Dual Camera - Samsung Galaxy Alpha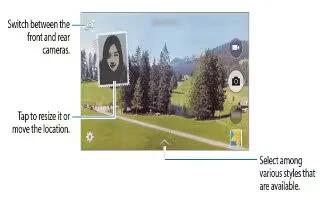 Learn how to use dual camera on your Samsung Galaxy Alpha. When you take a landscape photo with the rear camera, the photo or video captured by the front camera appears in an inset window, or vice versa. Use this feature to take a beautiful landscape photo and a self-portrait simultaneously.
On the Apps screen, tap Camera > MODE > Dual Camera to switch to dual camera mode. Tap Capture icon to take a photo or tap Record icon to record a video.
Note: You can record videos in dual camera mode for up to 5 minutes in Full HD and up to 10 minutes in HD or VGA.
While recording videos in this mode, sound is recorded by the internal microphone.
Managing shooting modes
Select the shooting modes to appear on the mode selection screen.
On the Apps screens, tap Camera > MODE > Manage modes.
Downloading shooting modes
Download more shooting modes from GALAXY Apps.
On the Apps screen, tap Camera > MODE > Download.