How To Use Dual Camera Modes - Samsung Galaxy Note Pro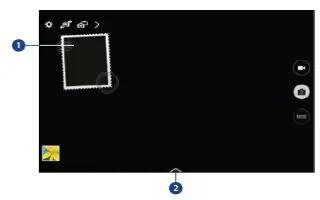 Learn how to use dual camera modes on your Samsung Galaxy Note Pro. Use Dual Camera Mode to take a photo or record a video with the rear camera and the photo or video captured by the front camera appears in an inset window.
Touchdual camera mode icon to switch to dual camera mode. Touch Camera icon to take a photo or touch Video Recorder icon to record a video. Touch the window to resize it or move it to a new location.
Select among various styles that are available.
Note: You can record videos in dual camera mode for up to 5 minutes in Full HD and up to 10 minutes in HD. While taking videos in this mode, sound is recorded by the internal microphone.
Share Shot
Touch Options icon > Share Shot icon and select one of the following:
Share shot: Send a photo directly to another device via Wi-Fi Direct.
Buddy photo share: Set the device to recognize a persons face that you have tagged in a photo and send it to that person.
Remote viewfinder: Set a device to control the camera remotely.
Controlling the Camera Remotely
Remote viewfinder allows you to take photos using the viewfinder of a connected device (not included). Wi-Fi Direct connection is required.
Touch Options icon > Share icon > Remote viewfinder.
Touch Wi-Fi Direct settings to connect the device and the camera using Wi-Fi Direct.
Touch to take a photo remotely using the device as a viewfinder.