How To Use Action Memo - Samsung Galaxy Note 3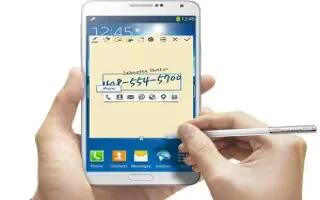 Learn how to use action memo on your Samsung galaxy Note 3. Action Memo allows you to quickly write memos and link them to actions such as making a call, sending, a message, or searching the web.
From the Home screen, tap Apps > Action Memo icon.
Tap an existing Memo to open it then tap the screen to enter edit mode.
or
Tap Create icon to create a new action memo.
Use the on-screen options to create your memo.
Tap Save icon to store the new memo.It include these feature:

Allows you to add free-format drawing and change the input color.
Allows you to erase marks and drawings.
Circle an on-screen text or drawing to then assign that as an action item to an available application such as: Call, Contacts, Messaging, Email, Internet, Maps Calendar event.
Displays additional functions.
Allows you to edit the current color.
Detaches the current memo and converts it in a small popup box.
Reduces the number of on-screen options.
Closes the current session and save the action memo.
Cancels the current memo.
Saves the current memo and creates a new one.
Add an additional page to the memo. From within the main application screen select the following functions:

Search icon: allows you to search for information within existing memos.
Create icon: allows you to create a new memo.
Delete icon: allows you to delete an existing memo.