How To Use S Memo On Samsung Galaxy S4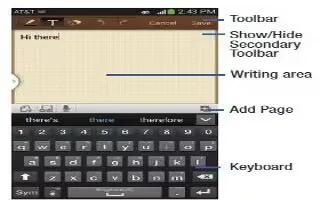 Learn how to use S Memo on your Samsung Galaxy S4. The S Memo application allows you to create memos using the keypad, your finger, or both. You can add images, voice recordings, and text all in one place.
Creating a New Memo
From the Home screen, tap Apps > S Memo icon.
Tap an existing Memo to open it then tap the screen to enter edit mode.
or
Tap Create Memo icon to start a new memo in text mode with the keypad displayed or tap new memo icon to start a new memo in drawing mode using your finger or a compatible on-screen writing tool. You can change back and forth in a memo to add text with the keypad and the pen.
Press Menu key to access the following options:
Note: Depending on whether you have saved the memo, are in keypad mode, or in handwriting mode, the options will appear differently. The following is a list of the options you may see.
Share via: allows you to share your memo as either an Image file (.jpg), a PDF file (.pdf), Plain text, or S Memo file (.snb) via Group Play, Wi-Fi Direct, Bluetooth, ChatON, Flipboard, Picasa, Google+, Messaging, AT&T Locker, Gmail, or Email.
Delete: allows you to delete the S Memo.
Export: allows you to save the memo to your Gallery as either a JPG or as a PDF.
Save as: allows you to save the memo with a different name.
Add tag: allows you to set tags to add in searches.
Add to Favorites: allows you to tag the current memo as a favorite.
Change background: allows you to set the background for your memo. Tap the background that you want, then tap Back button.
Create event: allows you to link the memo to your Calendar events.
Set as: allows you to set a memo as a contact icon, Home screen wallpaper, or Lock screen wallpaper.
Print: allows you to print the screen or web page on a Samsung printer using Wi-Fi.
When you are finished creating your memo, tap Save on the top menu bar.