How To Enter Text On iPad Mini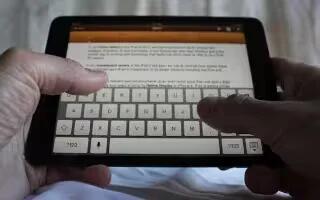 The onscreen keyboard lets you type when you need to enter text and edit text on iPad Mini.
How to enter text
Use the onscreen keyboard to enter text, such as contact information, mail, and web addresses. Depending on the app and the language youre using, the keyboard may correct misspellings, predict what youre typing, and even learn as you use it.
Enter text: Tap a text field to bring up the keyboard, and then tap keys on the keyboard.
As you type, each letter appears above your thumb or finger. If you touch the wrong key, you can slide your finger to the correct key. The letter isnt entered until you release your finger from the key.

Type uppercase: Tap the Shift key before tapping a letter. Or touch and hold the Shift key, then slide to a letter.
Quickly type a period and space: Double-tap the space bar.
Turn on caps lock: Double-tap the Shift key. To turn caps lock off, tap the Shift key.
Enter numbers, punctuation, or symbols: Tap the Number key. To see additional punctuation and symbols, tap the Symbol key.
Enter accented letters or other alternate characters: Touch and hold a key, then slide to choose one of the options.

Hide the onscreen keyboard: Tap the Keyboard key.
Set options for typing: Go to Settings > General > Keyboard.
How to edit text on iPad Mini If you need to edit text, an onscreen magnifying glass lets you position the insertion point where you need it. You can select text, and cut, copy, and paste text. In some apps, you can also cut, copy, and paste photos and videos.
Position the insertion point: Touch and hold to bring up the magnifying glass, then drag to position the insertion point.
Select text: Tap the insertion point to display the selection buttons. Tap Select to select the adjacent word, or tap Select All to select all text.
You can also double-tap a word to select it. Drag the grab points to select more or less text. In read-only documents, such as webpages, touch and hold to select a word.
Cut or copy text: Select text, and then tap Cut or Copy.
Paste text: Tap the insertion point, and then tap Paste to insert the last text that you cut or copied. To replace text, select it before tapping Paste.
Undo the last edit: Shake iPad, and then tap Undo.
Make text bold, italic, or underlined: Select text, tap play icon, then tap B/I/U (not always available).
Get the definition of a word: Select the word, and then tap Define (not always available).
Get alternative words: Select a word, and then tap Suggest (not always available).
Justify text: Select the text, and then tap the left or right arrow (not always available).
Note: This article will work on all iPads using iOS 6; including iPad Mini, iPad 2, The New iPad (iPad 3), iPad 4 (iPad with Retina display).