How To Customize Your iPad Mini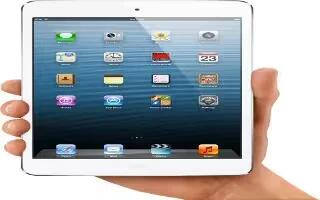 You can customize the layout of your apps on the Home screen, organize them in folders, and change the wallpaper on your iPad Mini.
How to rearrange apps on iPad Mini
Customize your Home screen by rearranging apps, moving apps to the Dock along the bottom of the screen, and creating additional Home screens. Rearrange apps: Touch and hold any app on the Home screen until it jiggles, then move apps around by dragging them. Press the Home button to save your arrangement.
Create a new Home screen: While arranging apps, drag an app to the right edge of the rightmost screen until a new screen appears. You can create up to 11 Home screens. The dots above the Dock show the number of screens you have, and which screen youre viewing.
Switch between Home screens: Swipe left or right.
Go to the first Home screen: Press the Home button.
Move an app to another screen: While its jiggling, drag an app to the side of the screen.
Customize the Home screen using iTunes: Connect iPad to your computer. In iTunes on your computer, select iPad, then click the Apps button to see the image of the iPad Home screen.
Reset the Home screen to its original layout: Go to Settings > General > Reset, then tap Reset Home Screen Layout. Resetting the Home screen removes any folders youve created and applies the default wallpaper to your Home screen.
How to organize with folders on iPad Mini
You can use folders to organize the apps on your Home screens. Rearrange foldersjust as you do appsby dragging them around your Home screens or to the Dock.
Create a folder: Touch and hold an app until the Home screen icons begin to jiggle, and then drag an app onto another. iPad creates a new folder that includes the two apps, and names the folder based on the type of apps. To enter a different name, tap the name field.
Open a folder: Tap the folder. To close a folder, tap outside the folder, or press the Home button.
Organize with folders: While arranging apps (the icons are jiggling):

Add an app to a folder: Drag the app onto the folder.
Remove an app from a folder: Open the folder if necessary, and then drag the app out.
Delete a folder: Move all apps out of the folder. The folder is automatically deleted.
Rename a folder: Tap to open the folder, then tap the name and enter a new one.

When you finish, press the Home button.
How to change the wallpaper on iPad Mini
You can customize both the Lock screen and the Home screen by choosing an image or photo to use as wallpaper. Choose one of the supplied images, or a photo from your Camera Roll or another album on iPad.
Change the wallpaper: Go to Settings > Brightness & Wallpaper.