How To Change Internet Settings - Samsung Galaxy Tab S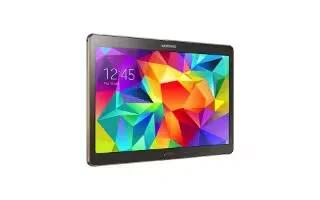 Learn how to change internet settings on your Samsung Galaxy Tab S. Change settings for using Internet. On the Settings screen, tap Applications > Internet.
Account: Sign in to a Samsung account.
Set homepage: Set a default homepage.
Auto fill forms: Set the device to automatically enter user information, such as names or phone numbers when you fill out forms on webpages.
Privacy: Manage personal data when visiting webpages.
Screen and text: Change the settings, adjust the font size, and more when viewing webpages.
Content settings: Change the settings for managing cookies from visiting webpages or set whether or not to display pop-up windows, and more.
Bandwidth management: Change the bandwidth settings.
Note

This guide will work on all Samsung Galaxy Tab S's; including Samsung Galaxy Tab S 8.4 and Samsung Galaxy Tab S 10.5.