How To Customize Music Settings On Samsung Galaxy Tab 2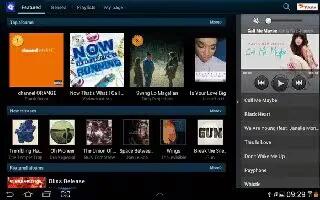 Learn how to customize music setting on Samsung Galaxy Tab 2. You can customize the Music Settings on Samsung Galaxy Tab 2.
To change settings in the Music application:
From a Home screen, touch Apps > Play Music.
Touch Menu.
The following options display depending on the library view:
Shuffle all: Play all songs in a random order.
New playlist: Create a new playlist from the Playlist view.
Choose on-device music: In addition to playing the music that you add to your online library, you can play music stored on your devices internal storage. Then you can listen to music when you have no Internet connection. To do this, make some of your online music available offline.
On device only: Display only the music that is available on your tablet.
Hide labels / Show labels: Hide or show labels. This option is not available in all library views.
Settings: Displays the Settings screen. Choose a Google account to use to connect to Google Play Music and set the Music settings as indicated on the screen. The Music app version is also displayed.
Help: Opens the Browser with information about the Music application.
Note
This article will work on both Samsung Galaxy Tabs; including Samsung Galaxy Tab 2 7.0 and Samsung Galaxy Tab 2 10.1.