7 Best Quick Toggle / Assistive Touch Apps For Android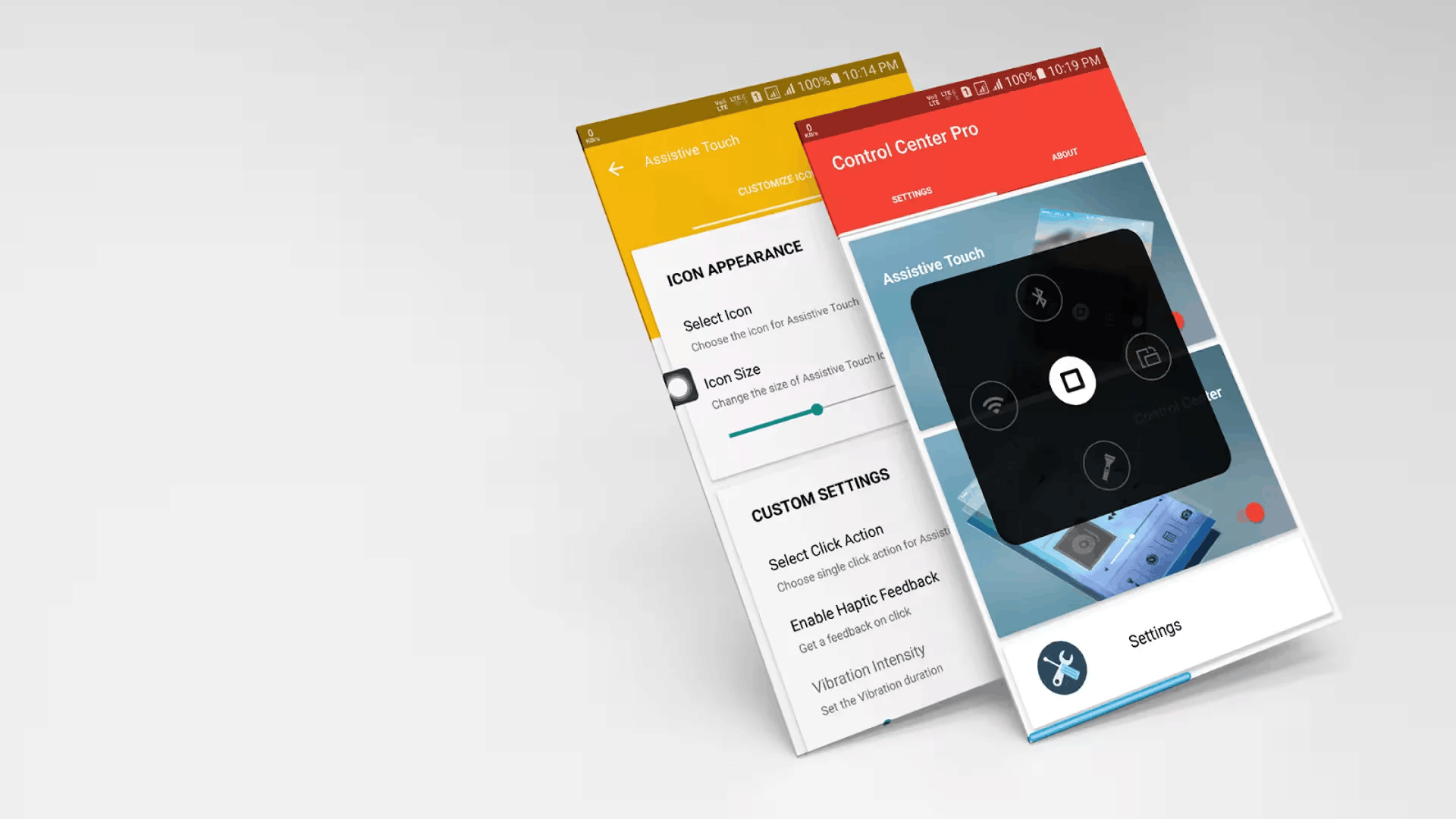 Assistive touch apps allow users to perform amazing and magical tasks. With the help of these apps, you can perform various actions on your Android device without using the physical keys. The actions can be anything like locking the phone, capturing a screenshot, go to home screen, adjust volume, quick toggles, and many more. You can easily access your favorite apps without touching the Home key, Back and Settings keys.
Assistive touch apps can also protect your eyes from the scorching screen light which you have to interact hundreds time in a day. Furthermore, assistive touch apps also give you the possibility to use the android with one hand. A small floating icon will appear on the screen which allows you to do a variety of tasks in seconds without closing the apps you are using.
Google play store has a variety of assistive touch apps but just a few of them works well. These Android apps are like touch icons that float on-screen and expand when you touch those translucent icons. In this article, we will tell you about the 7 best assistive touch apps for Android that includes the ability to lock the screen, toggle hardware features and some extra quick functions.
1. EasyTouch - Assistive Touch for Android
EasyTouch is one of those apps. Despite being around for a few years, it embraces Android's current design language, and that is a big draw. The settings screen and the shortcuts alike look like something that could have come from Google.
The options which you can access using the app are lock screen, notification, phone, photograph, back, home, recent task, etc. The Photograph option provides you with further options, like selfie, video, gallery, and camera. As for the customization, you can choose from various themes and select which shortcuts you want to get access to.
The downside to apps like this is that the button is always visible. There is no option to disable or exit the app. You need to go to App Info and Force Stop the app. Fortunately, compared to some of the other options you are about to see on this list, EasyTouch's icon is not all that annoying. Nevertheless, you can change the size and transparency to make it less intrusive. Plus there are plenty of themes.
2. Floating Toucher
Floating Toucher is the best assistive touch app for Android on the Play Store. This app offers you a lot of features as well as the customization option. It supports the quick toggles used by Android system widget. The features include clear memory, favorite apps, recent apps, system switches like brightness, profile, Bluetooth, wi-fi, GPS, Mobile data, orientation lock, flashlight and airplane mode.
It has the assistive touch with 3 panels, with each of them having room for adding up to 8 actions/shortcuts. You can easily choose which action/shortcut you want to add and where. You can choose from 8 pointer icons, which include Superman and Captain America. You also import any image from your storage and use it as the pointer icon. The other options are for adjusting the size, alpha, panel background, etc.
The back and home button need root permission. You can customize the button, create folders, change color or icon of an app, add favorite apps.
3. Assistive Touch for Android
Assistive Touch for Android is the next app on the list which you should try. As per the default settings, this app lets you lock the phone, access favorite apps, clean the phone, go home screen, and quick settings like Wi-Fi, Bluetooth, Screen orientation, etc. You can easily customize the settings and actions which you want to perform via the assistive touch. The app lets you choose the background color and assistive touch icon. As for the settings, you can choose animation speed, transparency, and size.
4. Assistive Touch for Android 2
There are various applications in the Play Store that essentially call themselves Assistive Touch. A large portion of them are to a great extent the same, and there is not quite a bit of motivation to pick them over EasyTouch beside a distinction in appearance.
Truly, however, it is the subsequent application that warrants a notice. Assistive Touch 2 shrivels the sliding catch into a little, less meddlesome target.
With a floating panel on the screen, you can easily use your Android smartphone, like iPhone. More conveniently, you can quickly access all your favorite apps, games, settings and quick toggle. You can use the smart clean function to clean running background apps, help your phone faster. Assistive Touch is also an ideal app to protect the physical buttons (home button and volume button). It is very useful for a big screen smartphone.
This is an easy touch tool for Android. It is fast, smooth, and it is totally Free.
5. Floating Toolbox
Floating Toolbox uses a floating button, but instead of opening a menu when you tap that icon, you get a list of your favorite apps. A panel of them drops down from the circular button, and it retreats back in when you are done. Then the icon fades so as not to obstruct your view.
You can tweak the transparency, size, and color to get the appearance to your liking. While the free version does not let you access toggles and other settings that similar shortcut apps are known for, you can do those things by buying the pro version for $2.03.
6. Assistive Touch Free
This app creates a virtual home button right on the Android screen with display and usage as same as the Assistive Touch on iPhone, iPad. Assistive Touch is fast, smooth and totally free.
You can adjust easily the Android mobile phones just with the floating panel display on the screen. All of your manipulation will be done just with a light touch or keep with one finger.
In addition, you can quickly access apps, games which you love, adjust settings, changes and see the notifications easily.
7. Control Center Pro
Control Center is a single solution to all your multitasking problems. It is a smart tool that contains your favorite features to be accessed from anywhere anytime. Control Center is inspired by iOS and lets you transform your Android device into an iPhone. It brings the best features of iOS - Control Center and Assistive Touch to Android in one package with more customizations than in an iPhone.
A few last words
These are the 7 best assistive touch apps for Android. Check them out if you are looking for a good assistive touch or quick toggle app. Hope you find the apps listed here useful. If we missed any of the best apps, tell us about them in the comments.
See Also