7 Best Selfie Apps For Android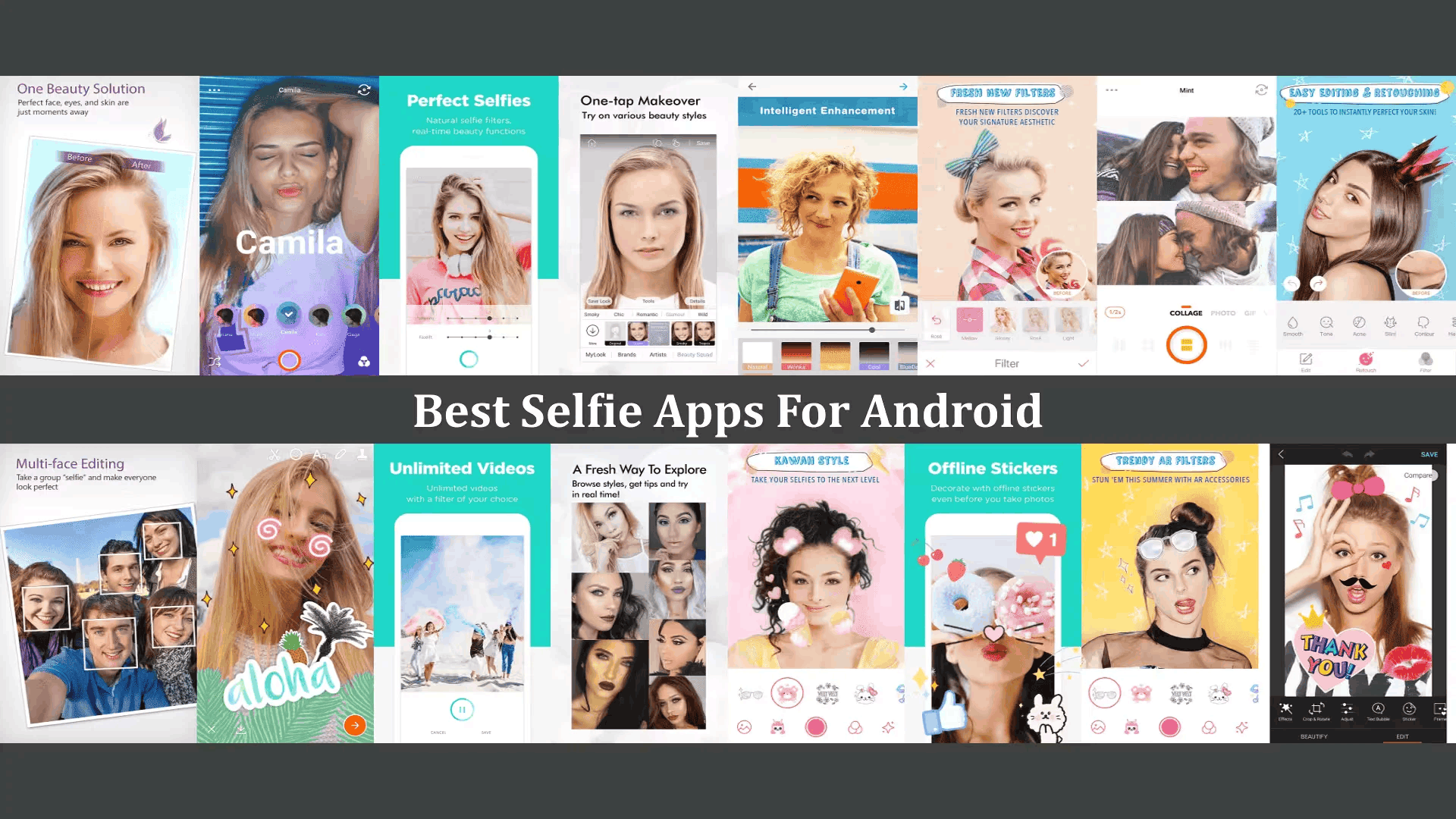 The selfies (photos of oneself) are not a new craze, people have been taking them since cameras became common. However, the coming of smartphones also brought high-resolution front-facing cameras, giving the trend a new push. It becomes fashionable to take pictures with the front camera of the smartphone and post them on social networks. It is not just a thing gone viral anymore, it is something that has potentially changed the way brands reach out to their audience on social media.
Although the default camera app is capable of capturing selfies, a better way to do that is using a dedicated selfie app that is specifically designed to capture selfies and make you look pretty. There are lots of apps that are available on Play Store that help you to enhance your selfie quality and also to improve your shooting skills. However, finding the right app is always difficult and time-consuming. To help all those selfie-crazed peoples out there who are wondering how to take the best selfie we have compiled a list of 7 best Selfie apps for Android.
1. YouCam Perfect - Selfie Cam
This is one of the best Android camera apps to take stunning selfie pictures. YouCam Perfect was built with the selfie in mind, whether talking the beautification tools or tips. The most attractive option of this app is the automatic trim, with which you can make your photos great with just one tap, with a choice of six different levels of naturalness.
You can also use tools manually, to remove wrinkles, eliminate dark areas of skin, or delete imperfections. You can even change forms, making your face look thinner, your eyes bigger and brighter, and even completely erase objects that are in the background and hinder the star of the picture. It is the visual equivalent of plastic surgery, sans the cost.
2. Frontback
This app is far more concerned with supplying context than it is touch-up tools. Frontback is a social photo community as well as an app capable of taking two photos simultaneously - one from the rear camera and the one from the front camera and merged into a single photo. It is essentially a double selfie of sorts, one you can effortlessly share, using the usual social avenues once you have managed to land the appropriate face for the occasion at hand.
It also allows you to show more details in the second picture such as make before/after shots or make cool artistic posts. If you prefer, it also allows you to take a single picture instead. The app also has an option to take a five seconds reaction video rather than a selfie photo.
Not only photo taking, you can also browse through posts all around the world showing personal moments, concerts, sports events, breaking news, or just lovely places. You can also create your own groups among family, colleagues, and friends and post Frontbacks in a more private setting. It also lets you decide if you let others post along with you in the same group.
3. Retrica
This is one of the top-rated selfie apps or photo editing apps for Android and iOS devices. Retrica is a full-fledged app for selfie lovers and even for photo editing enthusiasts. The app even though not marketed as a selfie app is a great selfie app. The app has many fans due to its great interface and many features. With Retrica you can take photos and apply real-time filters which you can choose from over 120 awesome filters and lets you make your own album with your friends.
You can also collage your photos and turn them into shots or video into a GIF with just one simple tap. Its user interface design is clean and simple. A single tap will let you shuffle Filters and apply them to your photos. You can also decorate your photos and videos with Retrica's original Stamp and directly upload your photos to social media platforms like Facebook, Twitter, Instagram, and more within the app itself. Download and join other 300 million users.
Retrica is completely free and there are no in-app purchases, which means you can access all its features. With Retrica you can take photos and apply real-time filters which you can choose from over 120 awesome filters and lets you make your own album with your friends. The app is a must check out if you want an all-rounder photo editing and selfie taking app.
4. Candy Camera
This is another great selfie app and it also has a very high rating on the Google Play Store. Candy Camera lets you take selfies and see real-time effects on them and there are more than hundred filters in the app. You can simply swipe your screen to change the filter effects. A wide range of these camera filters makes your selfies even better and makes your skin look beautiful.
Candy camera selfie filters work with real-time filters to make sure you capture them perfectly with the matched filter effect. There are a lot of editing features as well along with beautification, blemish removal, make-up features and more. The app is free with some in-app purchases, we sure you would not really need.
5. Perfect365
This, according to Us Weekly, is the app the Kardashian sisters use to beautify their selfies (it is also been reported that Kim hires a professional to Photoshop her looks, but that is beside the point here). If you are one of those guys who wants to perfect selfies manually and love editing pictures, Perfect 365 is the best choice for you. With One Tap Makeover feature, you can try out dozens of trendy makeup templates, inspired by your favorite promotions and the latest beauty trends, or create a unique style just for you.
What separates Perfect365 from similar apps in our roundup is not the toolset, but its native ability to adjust the intensity of each effect using a slider. Furthermore, it is lined with a melange of celebrity-inspired templates and 20 different tools aimed at beautifying your selfie, regardless if you are set on trying a new pair of lashes or adjusting your skin tone. Again, it is the intensity slider that keeps you from looking overly airbrushed. One of the best parts of Perfect365 is that it uses advanced technology to detect the face in your photo along with key points on the eyes, the nose and the mouth region automatically and accurately. This makes it easy to customize the most important points for a perfect photo processing.
6. Microsoft Selfie
A selfie app from Microsoft. Using computer vision technology for selfies might seem like overkill, but that is exactly what Microsoft has done with the apt-titled Microsoft Selfie. The Microsoft Selfie uses computer vision technology to identify your age, gender, skin tone, and lighting to figure out the best way to upgrade the Selfies for an impressive result.
Unlike some editing apps that can leave you with an unnatural look, this app delivers a better-looking edit that will help your Selfies look more realistic while still looking better. Standout features include intelligent portrait enhancement, noise reduction, and auto exposure. Together, these three functions work together to provide the most aesthetically-pleasing selfie possible, one that takes into account ambient lighting as well as your age, gender, and skin tone.
7. BeautyPlus
Another amazing selfie app on the Play Store, BeautyPlus has a fun AnimeCam feature that animate your selfies. Like most apps, BeautyPlus can take both photos and video selfies and apply them beauty filters. Apart from basic selfie filters, it has an anime cam feature to apply fun anime filters or to animate your selfies. It has many filters including blemishes erasing, skin smoothing, eyes brightening, teeth whitening and more.
BeautyPlus has claimed to work with well-known makeup artists, photographers, and real people just like you to develop the perfect photo retouch app - a tool that is both easy to use and gives flawless results. Because of its advanced Edit features, no one will ever suspect that you have used an app, allowing to show off your natural beauty without harsh filters. The app can use both the front and rear cameras and there are plenty of other options to explore.
Bonus: VSCO
For those that take all of their photography a little more seriously than most, VSCO is the Android app that makes people feel like artists more than just people taking a picture. VSCO is a standout for many reasons, but none more so than its collection of post-shot adjustments. Designed with a sleek, attractive interface, the app excels when it comes to applying brightness, contrast, warmth, and sharpness tweaks on the fly.
With the wide range of filters and film effects that VSCO has on offer, many of which are quite tasteful, it is worth taking a look. There is a new social element to VSCO as well, but for a lot of people, they might find themselves preferring Instagram for this sort of thing. Additionally, it touts a diverse assortment of filters designed to enhance your photos rather than make them appear as though they were shot using a vintage Holga from the '80s.
A few last words
While there are many apps available on Google Play Store, we believe that these were the 10 Best Selfie Apps for all type of Android Phones/Devices. If you are someone who is addicted to selfies, then you should really try some of the apps in the list. If we missed any of the best Android Selfie apps, tell us about them in the comments and do not forget to subscribe for more updates.
See Also