6 Best Free File Manager Apps For Android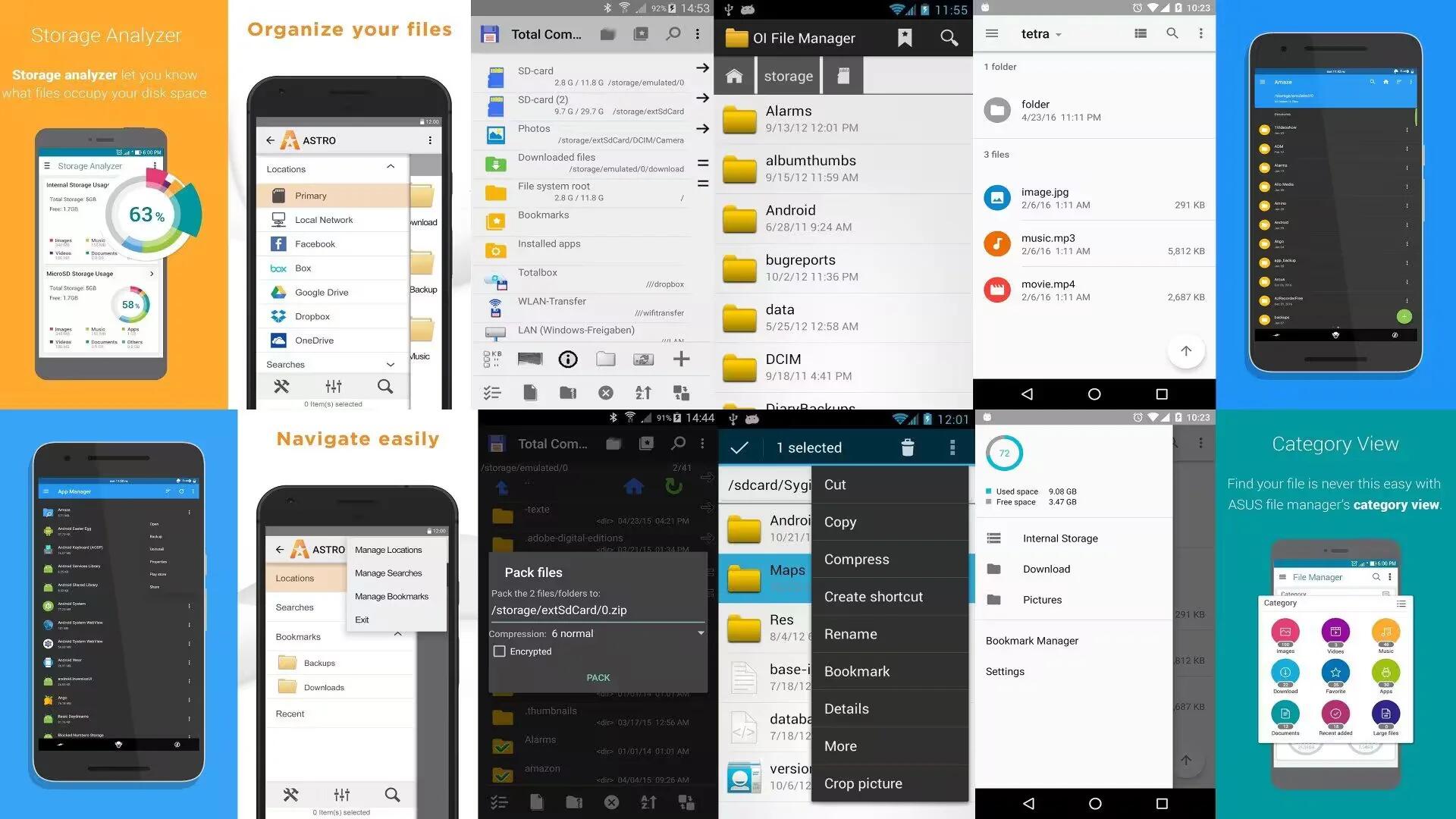 A big difference between Android and iOS is that Android allows every user the freedom to access their device's file system. Android has many file manager apps that let you access your device's file system. A file manager apps allow you to browse your files, find your downloads, manage your storage space, move things around, and a lot more.
File managers and Android go hand-in-hand. If you need to access a file you just downloaded off the Internet, you can use a file manager app to locate the file and circulate it as you would on any traditional operating system. This ease of system-wide file access is considered secure because of the Linux kernel that keeps sensitive files in a different, inaccessible location.
Many recent Android devices come with a basic file manager app that has limited functionality. Even worse, a file manager app is not included on some phones or tablets. Lucky for you, Android has the ablest File Managing Apps on the planet and here we will list some top 6 Best File Manager Apps For Android that is just awesome and surely will help you to make your user experience easy. One more thing, these all are free apps, so you can download them all and see which fits your needs!
1. Asus File Manager
It is not every day we see an OEM app make an app list, but File Manager by ASUS is actually really good. In fact, it is one of the more popular file managers out on Android. Long time Android users must have come across this app because file managers were an inescapable reality of the platform in its earlier days. ASUS File Manager happens to command a loyal following.
It is compatible with most devices, even non-ASUS ones. You will also get clean, simple interface with LAN and SMB support, cloud storage support, support for various types of files, archiving support, and more. It is entirely free with no in-app purchases and provides a great experience for a simple file browser. About the only negative part is the lack of root access. There are also some ads.
2. ASTRO File Manager
Astro file manager is also a popular file manager that has kept up with the times since the olden days. It supports popular cloud storage services (Google Drive, OneDrive, Dropbox, Box and Facebook) and lets you transfer files between them with ease. Also, it has a feature called cloud hopping, where you can transfer files between two separate cloud accounts (e.g. transferring a file from Google Drive to Dropbox).
Along with usual file management, the app lets you compress files into ZIP format or extract files. It also supports playback of multimedia files. ASTRO brings various other features like Mcafee antivirus integration, ability to set default search locations, search index options and customization options.
The app also brings some useful tools for Android such as App Manager, and SD card usage manager for cleaning up expanded memory. It has a built-in download manager which helps if you are downloading large files. You can access LAN, SMB or Cloud accounts and it comes with a Task Killer to terminate battery intensive tasks. You can also bookmark folders or settings and have access to a mapped network.
While the file manager app is available for free on the Play Store, you can get the Pro version, which removes ads.
3. Total Commander
Total Commander is a well-known file manager, formerly used with desktop computers but now available for Android as well. It has pretty much any feature you could ask for, including network storage support, cloud storage support, plugin support, bookmarks, and other tools such as an included text editor.
It supports various file sharing protocols (FTP, SFTP, WebDAV, LAN, OBEX) through plugins. Other key features of the app include media streaming player, directory history, ability to alter permissions of a file and more. If you have a rooted device, Total Commander supports it and lets you manage system directories.
This one is quickly becoming a favorite of many, even if the design is not as current as some would like. Once you get used to the app, you will know that the app lets you manage your files quickly, thanks to custom shortcuts being located on the bottom toolbar. It also supports a two-panel mode, which is available via a swipe, so you can easily drag and drop files.
Nevertheless, it is entirely free with no in-app purchases and no advertising. Thus, it is hard to be too critical of things like looks. Give it a shot!
4. Amaze File Manager
Amaze File Manager is a newer app comparatively speaking and it is a pretty good. It is open source and focuses on as lighter experience for those who just need to do some light file browsing. It features Material Design, SMB file sharing, a built-in app manager to uninstall apps, ROOT Explorer for rooted Android smartphones/tablets, and more.
You can explore their file system in a grid or list view, with handy shortcuts in the side drawer for frequently used folders like movies, music, pictures, and downloads. You can also bookmark folders, and view all media files loaded in their internal storage through handy shortcuts. The app supports FTP and SMB connections, while extra features include an App Manager, zip file support and a ROOT Explorer for rooted devices.
Amaze does not include cloud storage integration, but for local storage management, it is definitely worth checking out. It manages to include the most important stuff without feeling bloated. It is free to download and use with optional in-app purchases in case you want to help fund development.
5. OI File Manage
OI File Manager is an another only open-source option on our list. Impressively, it is also ad-free. The app will let you do all the typical file management operations, such as browsing your SD card, creating directories, renaming files, copying files, moving files, and deleting files.
The app can also act as an extension of other services on your device. For example, it can work with Gmail to allow you to attach files to emails and can display "Open" and "Save" dialogues within other productivity apps.
6. Tetra Filer
Tetra Filer is an up and coming file manager that focuses on a quick and lightweight experience. Where other file managers throw in everything but the kitchen sink when it comes to features, Tetra Filer takes the opposite tack with a clean, minimalist file management experience. It does not have a lot of features but does support the basics such as compression, file management, and more.
The File Explorer pane can display files and folders in a compact, detailed or gallery view, and users can bookmark their frequently used folders for easy access. There is also a search feature (with wildcard support) to quickly find given files or folders. The focus is squarely on local storage management, so you will not find cloud storage integration here, but if all you need is a simple file manager for navigating your internal memory, Tetra Filer does the job nicely. It is basic, but it is pretty good.
A few last words
Like with all other lists, this is not a be-all-end-all. According to us, these are the best free file managers for Android and we are pretty sure one of these apps would certainly cater to your need. Try these out and share your experience with us & everybody. If we missed any of the best file manager apps for Android, tell us about them in the comments!
See Also