Top 5 Free Android Apps To Hide Your Photos And Videos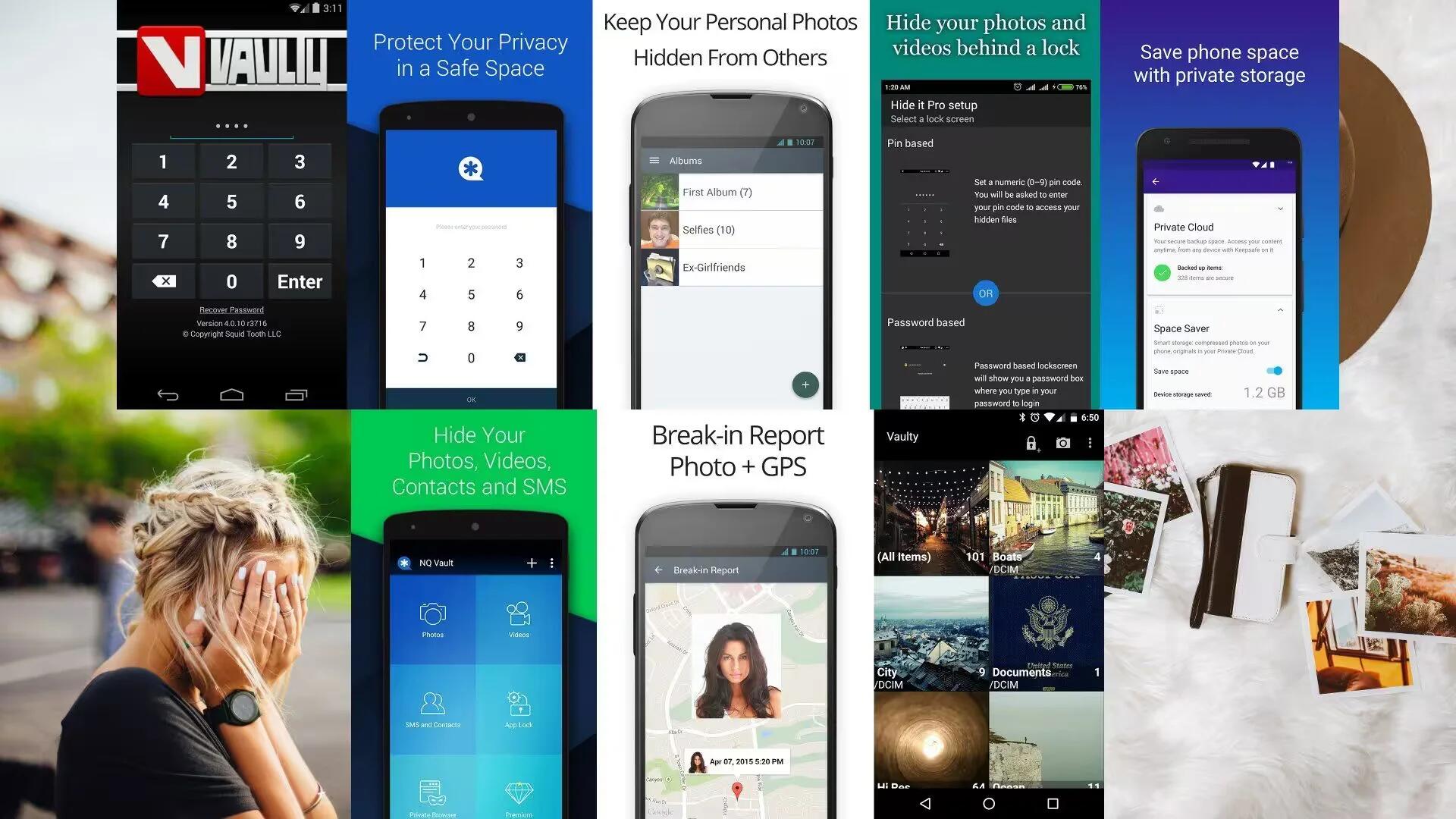 Since everyone is using lots of messaging and social media apps, they have always got tons of photos and videos on their smartphone. But not everyone wants to share their photos and videos with everyone who looks up to their phone. We may have many private pictures that are only stored for our eyes. Unfortunately, anyone may grab hold of your smartphone or you may accidentally give away your phone to your friend. This may lead to compromising your privacy leading to potential harm.
But to prevent that from happening, you need is a way to hide all the photos and videos that you don't want others to see. If you are an Android user, Google Play Store has tons of apps to hide photos and videos, that you can use for Free! To help you in choosing the right app, we have compiled a list of Top 5 Free Android Apps to Hide Your Photos and Videos. You just need to pick the one that suits you best.
With these apps, you can keep your Android phone safe. No one could view photos as well as videos from your smartphone without your permission. And they will not even know that photos and videos are available, so there is nothing to give permission to!
1. Vaulty
Since a long time, Vaulty has been most popular and preferred Android app, to hide photos and videos on your Android phone. Over 4 years, Vaulty has been helping people to keep their Photos and Videos safe. It has very easy UI.
We can hide photos and videos from Gallery and keep them password protected. So, nobody else can access it. Anyhow, if someone tries and enter the wrong password, Vaulty will take a picture and let you know. Furthermore, you can also save your photos and videos to Vaulty's online backup service to restore them in case they get deleted.
Apart from Gallery, it also provides us option to save out Photos and Videos into its online backup server. We can also arrange various photos and videos into different categories and password protect them. We can also assign different passwords for different categories. Lots of features include Photo Editing, Full-Screen Zoom, Filters, Camera and lots more.
Key Features: Takes picture of the culprit, provides online backup and intuitive interface.
Pricing: Free and offers in-app purchases
2. Vault-Hide SMS,Pics & Videos,App Lock,Cloud backup
This is a serious option for people seeking a wider range of privacy options. With this app, you can hide photos and videos in an encrypted, password-protected vault on your phone. You can also hide contacts, text messages, and call history. If you add a contact then calls and text messages from that contact will no longer appear in your SMS folder or call logs.
Also, there is one cool feature in Vault: We can create a fake Vault and keep some photos and videos inside it. It will be accessible by anyone and we can fool people, while they will be thinking that they have accessed out vault!
It also allows us to hide Vault! So no one will ever know that you have Vault on your Android phone. If you upgrade to the premium version for $2.99 per month you will also get an online vault backup, a break-in monitor which will photograph anyone who enters the wrong password, and a stealth mode which completely hides the app unless you enter a password in the phone dialer. This is obviously a bit beyond what most people need, but if you take privacy seriously then it is worth considering.
Key Features: Hides all types of data, offers different features to hide the vault and creates a backup of your data.
Pricing: Free limited version
3. KeepSafe Photo Vault
KeepSafe Vault is a great app for protecting your private photos and videos. It is extremely easy to use because you can add photos to it directly from your phone gallery. KeepSafe offers lots of features inside it. It has many customized options as well as tricks to protect your photos.
KeepSafe has easily accessible UI and we can add photos inside it through the Gallery. You also select a personal identification number (PIN) in order to keep anyone from accessing your files in the app. In addition, this app will not show up in your app list.
If you would like to access more advanced features, you will have to pay a fee to upgrade the app. Some of the more advanced features include adding a fake pin and having KeepSafe show up in your app list as a completely different app. Also, with the advanced app, you can send photos that will self-destruct after 20 seconds. Just like Vault, KeepSafe also provides a feature with which it can capture a picture of the person who has been trying to access it.
https://www.youtube.com/watch?v=evcxxBrCE7c
Key Features: Send self-destruct photos, many methods to fool people and a clean interface.
Pricing: Free
4. Hide Photos, Video-Hide it Pro
This is another all-around app that will let you hide pictures, videos, apps, SMS and contacts with just a few taps. Best of all, it is completely free to use and you do not need any kind of premium subscription. The app works as an Audio Manager to hide its identity and ensure data safety.
It also provides great customizations options and navigation tools. You can easily categorize or sort data, zoom in/out, view images in a slideshow, play videos, and many other simple tweaks.
You can use both PIN and a password to protect your data, and the app also doesn't show up in the apps list. All your important data is encrypted with AES 256-encryption for maximum security. If you think that these features are a bit limited, then you should know that the app also has plugins support. You can add different plugins to further increase functionality such as private messaging, private browsing, locking apps, etc.
https://www.youtube.com/watch?v=oLn8MqxvJjU
Key Features: Encrypted data, completely free and comes with plugin support.
Pricing: Free
5. Private Photo Vault
The Private Photo Vault has lots of features inside it. It allows us to hide photos and videos with two layers of password protection. With the first password, we can access this app and with the second password, we can access hidden photos and videos. There are lots of customization options available.
In addition, the app offers another interesting feature and that is you can send any of your locked photos to anyone via text message or email. All you have to do is access them through the app itself.
Private Photo Vault will take a photo and record GPS coordinates anytime someone unauthorized attempts to break into your vault. Also, if one of your friends is playing around on your phone and asks to enter Private Photo Vault, you can give him a fake password that will take him to a fake vault comprised of only safe photos.
Key Features: Double protection with two passwords, full control over photos and videos and easily share the locked photos.
Pricing: Free limited features and Pro for $3.99
A Word Of Caution
These Android apps are designed to hide photos and videos from casual snoopers. Anyone who is really determined and knows what they are doing can probably get at your files, so the best policy is not to let your phone fall into the wrong hands and to set up security on your lock screen.
It is also worth noting that, just like any other app, an update could cause bugs or it might not play nice with your phone. The only way to be completely sure you never lose any of those photos or videos is to back them up (that should be a general rule anyway). Before you try any of these apps back up your files, it is easy to keep them hidden on your computer in a password-protected folder.
Hiding Folders On Android
It is possible to hide folders from most apps simply by prefixing the name of the folder with a dot. This can prevent folders from being indexed in your Gallery. You can rename directories using any Android file manager. Choose a boring sounding system related name and that will be enough to hide sensitive files from most snoopers.
My top recommendation would be Hide It Pro as it covers most bases and it's easy to use. If you have any Android privacy apps you'd like to recommend or tips to offer then post a comment and share.
See Also