10 Best Android Launcher Apps To Customize Your Android Phone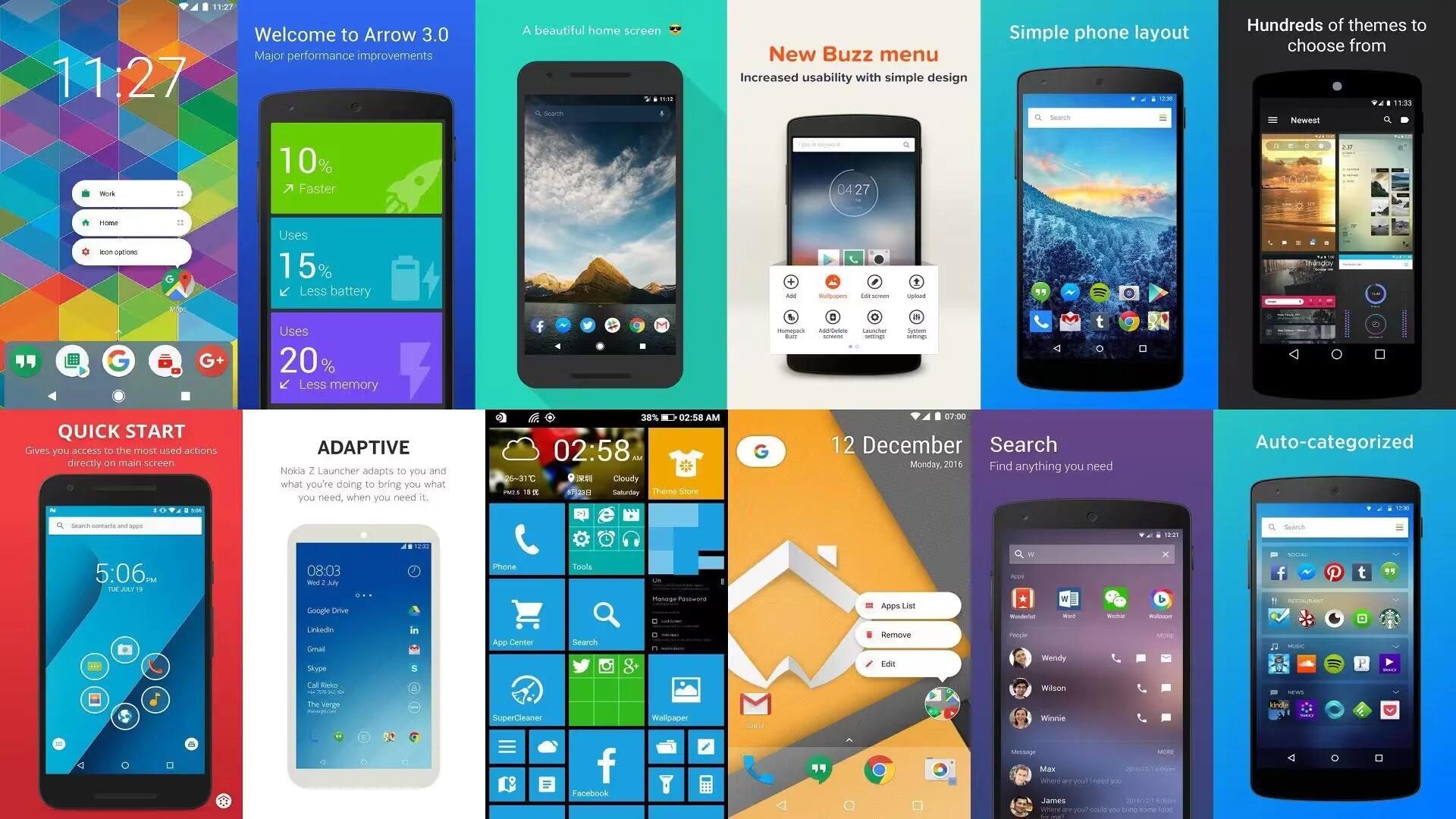 Android is known for its customization and you could quickly install third party custom Android launchers to change the look of your smartphone in no time. The way we arrange, organize, and interact with our apps on Android is called the launcher. Launchers usually consist of a series of home screens, where we can arrange app shortcuts and widgets and an app drawer.
A good launcher can give your phone a total makeover, from changing the look and feel with different icons and themes. Some launchers also add new functionality such as smart folders and Search Assistants. There are countless Android launchers on Google Play Store that customizes your Android smartphone in different unique styles. Some Launchers offer a lot of customizations but slow down your phone. While others are simple and light weight.
We understand that everyone has their own perfect launcher, but if you have not found your favorite yet, then here are 10 Best Android Launcher Apps we think will satisfy users of every type.
1. Nova Launcher
This is a very popular launcher and surely the undisputed king of customization. It strikes an excellent balance between having enough features to customize things without bogging you down with unfeasibly long options lists and menus. It balances extensive appearance and utility customizations with a minimal performance impact, letting you set your home screen just right without slowing down performance.
While the default theme is minimalistic, you can customize the user interface (UI), home screen, icons packages, themes animations & other things. The free version lacks some of the advanced customization features like notification badge, but it is more than enough for average users.
2. Arrow Launcher
While it is normal to think that a launcher from Microsoft will resemble Windows Phone, you would be wrong. The Arrow Launcher from Microsoft brings a unique take on how info and app are presented to users.
The idea with Arrow Launcher is that you get a home screen to put your apps and such. From there, you have a variety of preset home screens that will show you things like frequent contacts, reminders (powered by Wunderlist), recent documents, and your frequent apps. You can arrange other apps on your device, get back to your recent activities such as phone calls, text message, photos, files, etc. You can also set reminders and search contacts saved on your handset.
Arrow is easy to set up and a breeze to navigate. Microsoft also updates the launcher frequently with new features. The features also generally integrate with other Microsoft products. That makes it good for people who use Microsoft products.
3. Evie Launcher
This is a lightweight, fast Android launcher with some unique features. First and foremost, like so many recent Launchers, Evie has a swipe up gesture to open the app drawer. Another popular launcher gesture Evie has is the ability to double-tap the screen to put your phone to sleep, either using the phone-locking Instant Lock or Smart Lock-friendly Timer Lock. If you miss that dedicated page from Google Now Launcher, there is even a gesture shortcut to take you to Google Now.
In addition, there is also a clever slide-out bar on the left side that gives you quick access to all of your apps. Universal search lets you just start typing an app's name to find whichever one you need. Live wallpaper support, a custom app dock, and other features let you tweak your home screen and app drawer to your heart's content.
Evie Launcher also comes with support for icon packs, a no-dock mode, and you can change things like the grid size on the home screen. Evie Launcher even has things like unread badges, widget customization, and more. It is totally free to download with no in-app purchases.
4. Buzz Launcher
If you need something weird or anything that would replace the classic home-screen theme, then Buzz Launcher would be the way-to-go solution. It offers tons of customization, which you cannot find in any other launcher.
It allows you to customize much more than just your Wallpaper and icons. You can add customize gestures and animation effects; you can also include some customized widgets built by Buzz Launcher. One of the most exciting thing about this launcher is, "Homepacks". Homepacks are pre-defined themes created by others which you can download and use. In other words, you do not need to make the "perfect" launcher, you can find one from the theme store. You can also share your own home screens with other users.
Although the launcher goes too hard on resource consumption, it will not be a problem in flagship devices. Buzz Launcher is an ad-free custom launcher and offers more than 1,000,000 free themes to its users.
5. Yahoo Aviate Launcher
This launcher is from Yahoo and it is one of those few Android Launcher Apps that works intelligently. Aviate begins with a simplified home screen and an auto-categorized app drawer. The launcher adapts itself based on your usage. As you go through the day, Aviate adjusts what is on the display to provide the info you need right now.
It uses a combination of the Google Now-like Smart Screen and predictive collections to help you find what you want quicker. While it is not as good as Google Now, It is a decent replacement. Aviate figures out where you are and what time of day it is and serves up relevant collections, so you can better handle those activities. For example, it will automatically pull up your music apps and artist details when you plug in your headphones.
The app also helps you save battery, notifies you with weather reports, upcoming events and much more. You can search anything using this app. Aviate is free and excels for having a high amount of polish and minimal maintenance, even though you might lose out on some customization.
6. Themer
This is a fast launcher for Android that allows you to setup a custom look for Android with ease. Themer lets you choose from a wide variety of beautiful pre-made skins quickly and easily. Themer Android home screen app has different, colorful wallpapers, themes, and icons package to change your smartphone look.
Your choices range from simple and sedate to bright, bold and colorful. Since it only takes a couple taps to switch your entire look, you can update your phone's home screen as often as you change your clothes. It automatically categorizes your apps and transition effect as per your tone.
Update: As pointed out by our readers, the Themer is not updated for nearly 2 years and the developers have abandoned it. So we have added Asus ZenUI launcher in its place.
6. ZenUI Launcher
This launcher is developed by Asus for its handsets but is freely available for others to use. The ZenUI has all of the most basic Android launcher features. It lets you go with a particular color theme and bundle up apps in the drawer by category if you want to keep things neat and tidy. You can change things like transitions, icons, and even the theme. It also boasts the ability to change the font, font size, and the icon size.
The Manage Home screen puts phone customization and system settings within easy reach, and a quick swipe down brings up a search bar, frequently used apps, and contacts. Additionally, the app has a system-wide search accessible by swiping down on the home-screen. It can also auto-group apps by category. ZenUI also includes a security tool for apps, CM Applock for Asus (provided by Clean Master developer Cheetah Mobile) to prevent unwanted users from accessing certain content.
The applock works similarly to a screen lock. However, this component can be used with an 'intruder-selfie' function. This allows your phone to snap a picture of the person trying to launch the app. This only works if the person has a failed attempt at opening the app first, before getting inside. Finally, ZenUI supplies an 'unread counts badge' so you can see how many unread messages or notifications you have for each app. This option is usually considered a premium feature in some launchers. It is functional, and support for this does extend to WhatsApp, which is probably where most people would want it.
This launcher is intuitive, customizable and has possibly the most impressive selection of icon packs and themes of any product on the list. It is not the most powerful or most customizable launcher out there. However, it is great for those who do not need a whole lot of extra features.
7. Smart Launcher 3
This is another fast and unique launcher when compared with other personalization apps. The spin style home screen is the most familiar one. Its biggest claim to fame is the various ways that you can have your icons displayed. There is the classic flower shape, various other grids, and more.
It is extremely clean and minimalist interface that works particularly well on smartphones with smaller screens. In addition to the smart dial, the launcher includes an intelligent app drawer that automatically categorizes your app into useful groups. You get separate drawers for games, communication tools, the Internet, multimedia apps, etc. The latest iteration of Smart Launcher adds flat surface detection, and other improvements, while retaining the slick interface.
It is light on the system and saves RAM and battery. Additionally, it also offers security on devices by hiding apps from the grid and protects them with a password. In the free version, you will get many default widgets, themes, wallpapers with this launcher app. In pro version, you can get the highly optimized home screen as per your choice.
8. Z Launcher
Developed by Nokia, the Z Launcher is another one that helps you to get to your most used-apps and sites more quickly. It works by learning your habits and taking into account your location and the time of day to show you the most appropriate items. In addition, the more you use it, the better it gets, as the app learns more about your habits over time.
The core features of Z launcher are its gestures compatibility and silky smooth scrolling effects. The launcher uses gestures to quickly access apps. All you have to do is simply draw the first letter of its name in order to produce a narrow list of results. Are you looking for a ride? Just draw a "U" and the screen in an instant, the Uber app will be there at your fingertips. And the more often you use a certain app, the Z Launcher will remember.
Z Launcher also has a pretty slick design, including backgrounds that change based on the time of day, so you do not even have to sacrifice style for speed. It has some Wow features but lacks widgets could be a turn-off for some users.
9. Launcher 8 WP style
If you are fond of Windows phone UI, then this launcher is for you. Launcher 8 brings you the tiles menu that resembles a Windows Phone like interface with great customization options. Its sole purpose for existing is to make your phone look like a Windows Phone.
Along with the launcher, the default Notification bar/drawer gets replaced with the Windows Phone like Notification bar. Although this launcher consumes too much of CPU Process, it is a really good launcher "for a change".
You can convert your widgets into Windows Phone style live tiles and create virtually the same experience you would find on Windows Phone. Except, you know, with a functioning YouTube app. It also comes with a handful of other features making it a very solid Android launcher app. The launcher is free to download.
10. ADW Launcher 2
This is the ultimate launcher for modders. You can tweak anything you want, from the particular shade of Gmail red to the precise gesture needed to open an app. ADW Launcher 2 offers a wealth of features and customization options.
It offers a dynamically colored interface based on your wallpaper, an indexed app drawer, transitions, icon badges, app categorization and more. It also supports new Android features, including support for app shortcuts found in Android 7.1. The best part is, it comes with an updated UI that fits in line better with stock Android. It also allows you to customize every aspect as per your need that too in the free version.
ZenUI Launcher also has one of the best make-your-own-widget features that we have seen. It is one of those launchers which offers premium features of other launchers in a free version. You can download it for free or pick up the pro version as an in-app purchase for $3.49.
A Few Last Words
While there are also tons of launcher apps available on Google Play Store, we believe that these were the 10 Best Launcher Apps for all type of Android Phones/Devices. We have not included the Google Now launcher, which was one of the best light-weight launchers since Google has discontinued it this year.
If you are an avid Android user, then you would have tried at least some of these launchers. If we missed any of the best Android launcher apps, tell us about them in the comments and do not forget to subscribe for more updates.
See Also