Lenovo New Yoga Tablets Runs Android And Windows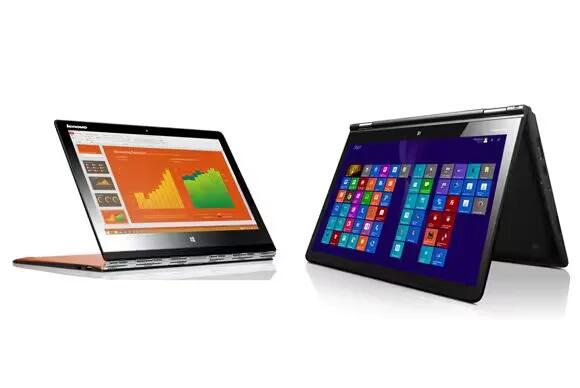 Lenovo unveils new versions of Yoga tablets, includes a big screen model with built in projector. Lenovo is known for its Yoga multi-mode devices that allow users to use a single device in different ways.
The Yoga Tablet 2 Pro is a tablet running Android, features 13-inch screen with 2560*1440 resolution, also got a built in projector to create 50 inch image on the wall. Speaking of the sort, the tablet is about as flexible as other Yoga tablets, which is to say it has a rotating hinge that doubles as a kickstand. The tablet got Intel Atom Processor, 2GB RAM, 8MP of rear camera along with dual 1.5-watt speakers a 5-watt JBL subwoofer. There is a 32GB of internal storage and you can extend it with microSD card with 64GB. The battery shows it can make 15 hours of runtime. The tablet will be priced $500 plus will go on sale by next month.
The refreshed Yoga Tablet 2 still comes in 8- and 10-inch sizes, just like the last version. Now, though, it's available with either Android 4.4 or Windows 8.1. Lenovo upgraded from a MediaTek processor to an Intel Atom chip, which should hopefully address those performance issues. Two, all of the tablets in the series, even the 8-inch models, now have 1920*1200 screens. The kickstand is said to be sturdier on the 10-inch model, while all of the models now have that same new "Hang" mode as the Yoga Tablet 2 Pro. Finally, there's a 4G option for all the Android models, along with the 10-inch Windows version.
If you do buy one of the Windows configurations, you'll also get a free one-year subscription to Office 365. Lenovo didn't make many changes to the Android version, which is to say it still runs a heavily skinned version of KitKat. The Android version, that is available today starting at $250 for the 8-inch model and $300 for the 10-incher. The two Windows models will arrive throughout the fall, with the 10-inch model going on sale later this month for $400, and the 8-inch edition landing in November for $300.
Live event on Lenovo unveiling Yoga tablets