iOS 9.3 Will Bring Night Shift Mode To iPhone And iPad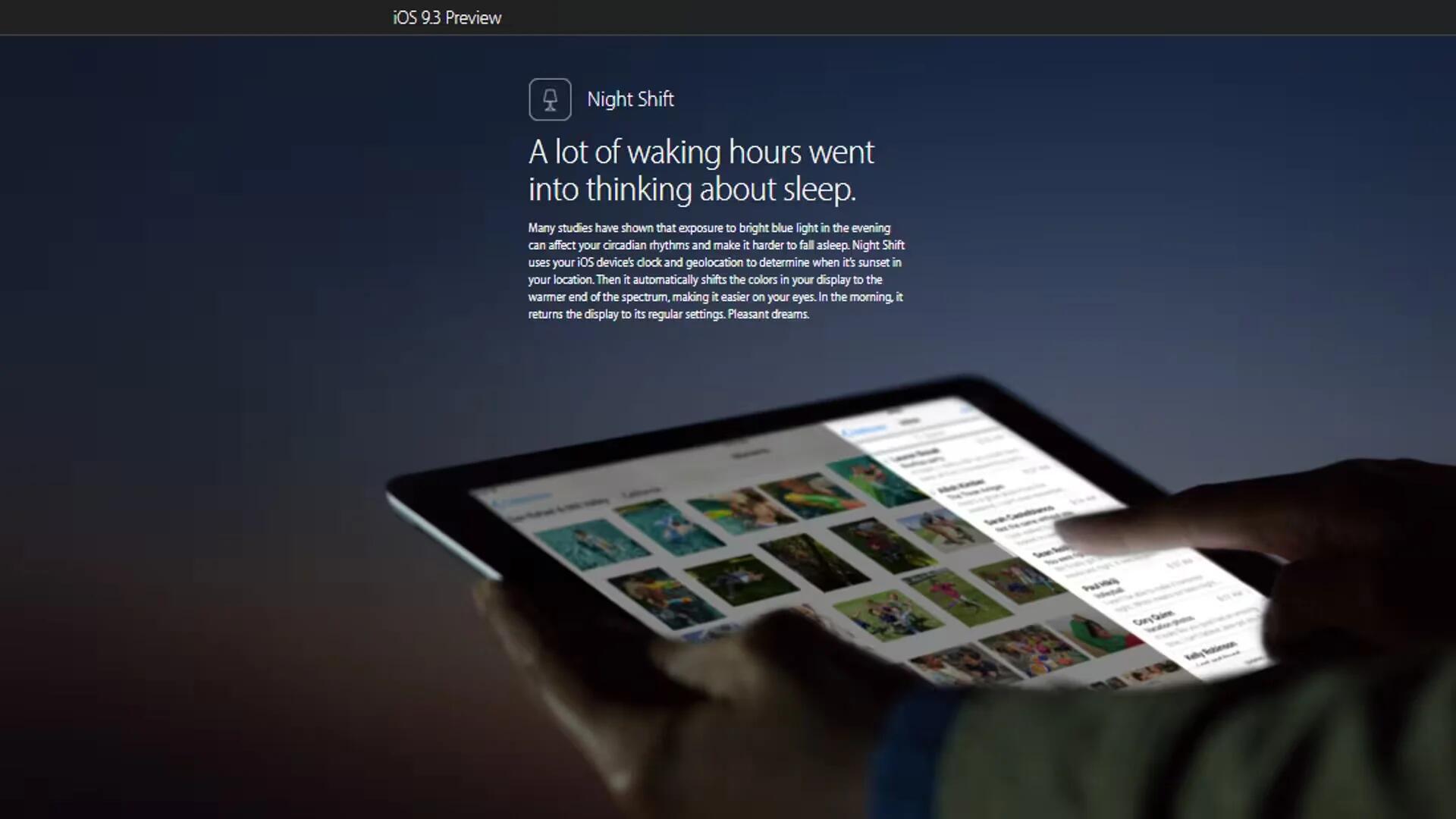 Yesterday, Apple released iOS 9.3 beta to developers and it brings a number of new features to the iPhone and iPad including a new Night Shift mode.
The new Night Shift mode introduced in the iOS 9.3 is designed to cut down on the amount of blue light that your iPhone or iPad uses in the evening, as research indicates that blue light can disrupt your sleep.
A lot of waking hours went into thinking about sleep.

Many studies have shown that exposure to bright blue light in the evening can affect your circadian rhythms and make it harder to fall asleep. Night Shift uses your iOS device's clock and geolocation to determine when it's sunset in your location. Then it automatically shifts the colors in your display to the warmer end of the spectrum, making it easier on your eyes. In the morning, it returns the display to its regular settings. Pleasant dreams.
With Night Shift mode enabled, your iPhone will automatically change towards the warmer (yellower) colors in the spectrum during evening and during morning the display will automatically turns to its normal temperature color, mimicking natural daylight.
Also included in the new 9.3 iOS beta were some changes to Apples Touch ID, improvements to Apple News, Notes, Health, CarPlay and allows iPhone to connect with more than one Apple Watch.
What's new in iOS 9.3
Apple Watch - With iOS 9.3 and watchOS 2.2, the iPhone is able to pair with more than one Apple Watch. Both updates are required, with each watch running watchOS 2.2 and the iPhone running iOS 9.3. WatchOS 2.2 was seeded to developers alongside iOS 9.3.
Night Shift - iOS 9.3 includes a feature that reduces blue light at night, much like f.lux does on a Mac.
Notes - Notes is now password protected and there are new features for sorting by date created, date modified, or alphabetically.
Apple News - News algorithms have been improved to offer more tailored articles in the For You section. There's also a new landscape mode and in-line video playback.
Health - Health has been updated with a new interface that makes it easier to see move, exercise, and stand data. There's also a new menu in certain categories to help users discover apps that can be used to track health data.
CarPlay - CarPlay includes iOS 9 features like New and For You sections in Apple Music along with a Nearby feature in Maps for discovering the best local restaurants, coffee shops, and more.
Education - iOS 9.3 includes multiple Education-oriented features including shared iPads for students, a new Classroom app, and an Apple School Manager.