How To Use Sound Settings - LG G 2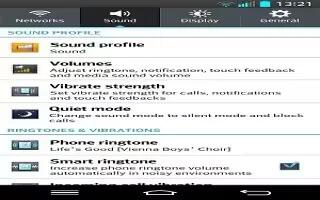 Learn how to use sound settings on your LG G2. Allows you to set the sound profile to Sound, Vibrate only, or Silent.
Volumes
Adjust the phone's volume settings to suit your needs and your environment.
Vibrate strength
Allows you to set the vibrate strength for calls, notifications, and touch feedback.
Quiet mode
Tap the Quiet mode switch ON/OFF to enable this function. Tap Quiet mode to open a screen to set the days and times to automatically turn off all sounds except for alarms and media and to set allowed calls during the quiet mode.
Phone ringtone
Select the ringtone for incoming calls.
Smart ringtone
Select to automatically increase the volume of the ringtone when outside noise is loud.
Incoming call vibration
Allows you to choose the type of vibration for incoming calls.
Gentle vibration
Gradually increases vibration up to the current strength set.
Ringtone with vibration
Checkmark for vibration feedback for calls.
Voice notifications
Read out incoming call and message event automatically.
Default notification sound
Select the ringtone for notifications such as new messages receipt or calendar events.
Touch feedback & system
Allows you to set dial pad touch tones, touch sounds, screen lock sound, and vibrate on touch.
Dial pad touch tones
Allows you to play tones when using the dial pad.
Touch sounds
Allows you to play a sound when making a screen selection.
Screen lock sound
Allows you to play a sound when locking and unlocking the screen
Vibrate on touch
Allows you to vibrate when tapping the front key and on certain UI interactions.