How To Use S Pen Settings - Samsung Galaxy Note 3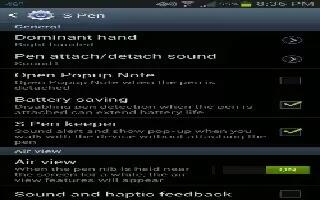 Learn how to customize s pen settings on your Samsung Galaxy Note 3. This menu allows you to customize settings for the S Pen.
From the Home screen, tap Apps > Settings > Controls > S Pen. The following options are available:

Turn off pen detection: allows you to deactivate pen detection S Pen keeper: allows to enable a a sound alert and on-screen notification when you walk around with the device without the pen inserted in its slot.
Pointer: allows you to activate the ability to show the pointer when you hover the S Pen over the screen.
Direct pen input: displays the handwriting pad within the text input area when the S Pen is detected.
Pen detachment options: allows you activate a selected action when the device detects the S Pen is detached. Choose from: None, Action Memo, or Air command.
Pen attach/detach sound: allows you to select a sound to be played whenever the pen is attached or detached.