How To Use S Pen Settings On Samsung Galaxy Note 2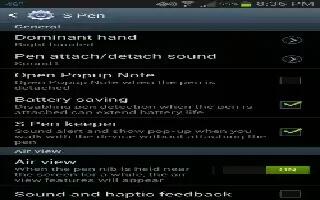 This menu allows you to customize settings for the S Pen on Samsung Galaxy Note 2.
From the Home screen, press Menu key and then tap Settings > S Pen.
The following options are available:

Dominant hand: allows you to set your phone to Left handed or Right handed.
Pen attach/detach sound: allows you to select a sound to be played whenever the pen is attached or detached.
Open Popup Note: automatically opens Quick Note whenever the pen is detached.
Battery saving: disables the pen detection feature while the pen is attached to save battery power.
S Pen keeper: allows to enable a a sound alert and on-screen notification when you walk around with the device without the pen inserted in its slot.
Air view: When the S pen tip is near the screen for a while, the S pen hovering feature will be provided.
Sound and haptic feedback: activates S Pen sounds and feedback functionality.
Quick Command settings: allows you to create pen gestures to open selected apps or perform tasks.
S Pen help: provides additional information about S Pen.