How To Use Power Saving Mode - Samsung Galaxy Tab 4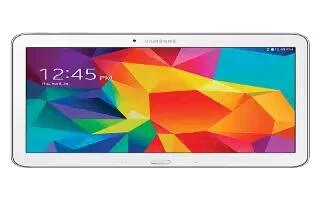 Learn how to use power saving mode on your Samsung Galaxy Tab 4. See how much battery power is used for device activities.
From the Settings screen, touch General > Battery. The battery level displays as a percentage. The amount of time the battery has been used also displays. Battery usage displays in percentages per application.
Touch Screen, Android System, Android OS, or any other listed application to view how it is affecting battery use.
Note: Other applications may be running that affect battery use.
Touch Refresh icon to update the listing.
Touch Show battery percentage to display the battery charge percentage next to the battery charge icon in the Status Bar.
Power Saving Mode
Use Power saving mode to manage your phone to conserve power.
From the Settings screen, touch General > Power saving mode. The Power saving mode screen displays.
Touch the OFF / ON button to turn Power saving mode ON.
Touch Select when turned on to set Always or Auto enable, which automatically turns on Power saving mode when the battery falls below 20%.
Touch the following options to create a check mark and conserve power:

CPU performance: Limit the maximum performance of the CPU.
Screen output: Lower the screen power level.
Disable haptic feedback: Turn off vibration when you touch the screen.
Touch Learn about power saving to learn about various ways to conserve battery power.
Note
This guide will work on all Samsung Galaxy Tabs; including Samsung Galaxy Tab 4 7.0, Samsung Galaxy Tab 4 8.0 and Samsung Galaxy Tab 4 10.1.