How To Use Google Maps App - LG G Flex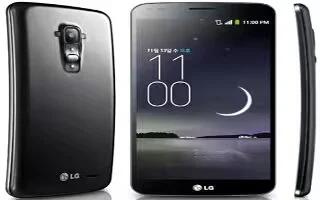 Learn how to use Google maps app on your LG G Flex. Google applications, including mobile versions of Gmail, Hangouts, Google Calendar, and Google Maps, are loaded on your phone.
To set up a Google account, tap any Google application, enter your user name and password and sign in.
After signing in, your contacts, email, and calendar in your Google account will automatically synchronize with your phone.
Maps
You can use Google Maps to find your current location, to view real-time traffic conditions, to get detailed directions by foot, public transportation, bicycle, or car, and to navigate by using spoken, turn-byturn driving instructions using the Google Maps Navigation service. You can search on a street map or a satellite image to locate an address or a landmark, and you can view some locations as if you were strolling down the street. There are some locations that Maps does not have information about.
Launch Google Maps
Tap Home icon > Apps icon > Maps icon.
Note: Before using any navigation programs, make sure your phone is set to allow location detection, and then select which sources you want to use.
Tap Home Key > Menu Key> All settings > General tab > Location access. Tap the Access to my location switch and select Wi-Fi & mobile network location and/or GPS satellites for location sources.
Tap Direction icon. The map centers on a blue circle that indicates your location. An arrow indicates the direction the device is facing. A transparent blue circle around the dot indicates that your actual location is within the circle. Tap to access various features on Google Maps.
My Location
To get an address and additional information for a location:
Touch and hold a location on the map. A bar with the address and a thumbnail from Street View (if available) opens at the bottom of the screen.
Drag the bar upwards to access additional options.
To utilize Google Maps:
Tap Home > Apps > Maps icon.
Pinch out or in to zoom in or out of the current map view.
OR
Tap each icon at the top of the screen.
Search icon to search for a location.
Directions icon to get directions.
Your activity icon to access your favorite places.
Layers icon to view locations and additional information overlaid on the map.
To search for a location:
While viewing a map, tap Search icon.
In the search box, enter the place you're looking for.
You can enter an address, a city, or a type of business or establishment. For example, theater in New York.
Tap Google Map icon. Red markers indicate search matches on the map.
Tap a marker to display a bar that contains the name and travel information. Drag the bar upwards to open a screen with more information about the location, as well as options for obtaining directions.
To get directions:
While viewing a map, tap Get Direction icon.
Enter a starting point in the Start point field, or leave as is to allow GPS to find your location, and your destination in the End point field.
To reverse directions, tap Reverse Direction icon.
Tap the icon for car, public transit, biking, or walking directions.
The directions to your destination appear as a blue route. Select a gray route if you prefer it.
Drag the bar up to view directions as text or tap Navigate icon to navigate to the destination.
To add layers for familiar features such as Traffic or Terrain
While viewing a map, tap List icon. A menu opens with a list of layers.
Tap the layer you'd like to view. You can add multiple layers.
If you turn a layer on, the layer will remain on the map until you specifically turn it off or clear the map.