How To Use Maps - LG G2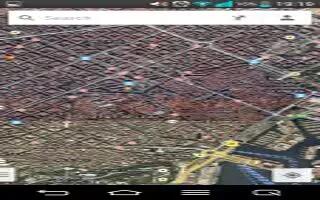 Learn how to use maps on your LG G2. Google applications, including mobile versions of Gmail, Hangouts, Google Calendar, and Google Maps, are loaded on your phone.
To set up a Google account, tap any Google application, enter your user name and password and sign in.
After signing in, your contacts, email, and calendar in your Google account will automatically synchronize with your phone.
Maps
To open Google Maps and view your location
From the Home screen, tap the Apps Key and tap Maps icon .
Tap the My Location icon on the screen.
The map centers on a blue arrow that indicates your location. A blue circle around the arrow indicates that your actual location is within the circle.
Note: While viewing a map, tap the Menu Key for the following options: Clear Map, Make available offline and Settings.
To get an address and additional information for a location
Touch and hold a location on the map. A balloon with the address and a thumbnail from Street View (if available) opens over the location.
Tap the balloon to access additional options.
To view map, satellite, or traffic layers
Tap the Layers icon on the map and select a layer option. You can choose from Traffic, Satellite, Terrain, and others.
Note: If the message "Turn on GPS and mobile network location" is shown, please tap Settings > Location access > Access to my location On/OFF to activate location.
Searching For Locations and Places
You can search for a location and view it on a map. You can also search for places on the map that you're viewing.
To search for a location
While viewing a map, tap Search icon at the bottom of the screen.
In the search box, enter the place you're looking for. You can enter an address, a city, or a type of business or establishment. For example, theater in New York.
Tap the Search icon on the keyboard.
Markers with letter labels indicate search matches on the map.
Note: Location information might be inaccurate if GPS and Wi-Fi are turned off. Please make sure that GPS and Wi-Fi are turne on.
Getting Directions
To get directions
While viewing a map, tap directions icon .
Enter a starting point in the top text box and your destination in the bottom text box reverse directions, tap the Menu Key and tap Reverse Start & End.
Tap the icon for car, public transit, biking, or walking directions.
Tap GET DIRECTIONS. The directions to your destination appear as a route.