How To Use Downloads App On Samsung Galaxy Tab 2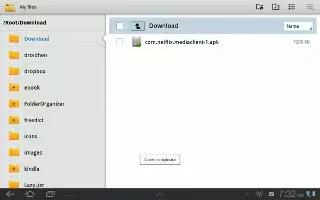 Files, apps, and other items you download in Internet, Gmail, Email, or in other ways, are stored on your Samsung Galaxy Tab 2 internal storage. Use the Downloads app to view, reopen, or delete what you have downloaded.
From a Home screen, touch Apps > Downloads.
Touch an item to open it.
Touch headings for earlier downloads to view them.
Touch items you want to send, to check them, and then touch Share. Touch an option to share the item. Options are: Bluetooth, ChatON, Dropbox, Email, Gmail, Google+, Group Cast, Photo editor, Picasa, Wi-Fi Direct, or YouTube.
Touch items you want to delete, to check them, and then touch Delete. The items are deleted from your tablet.
Touch Sort by size or Sort by date, at the bottom of the Downloads pop-up, to switch back and forth.
Note
This article will work on both Samsung Galaxy Tabs; including Samsung Galaxy Tab 2 7.0 and Samsung Galaxy Tab 2 10.1.