How To Use Contacts - Samsung Galaxy Gear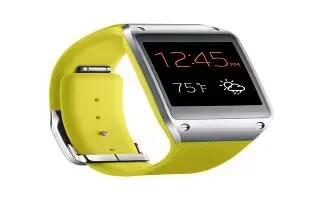 Learn how to use contacts on your Samsung Galaxy Gear. This menu displays the list of currently available Contacts entries on your paired smartphone.
Contacts Samsung Galaxy Gear
From the Home (Clock) screen, scroll to and then tap Apps > Contacts.
Tap an available entry to view its details.
or
Swipe to access a quick function:
Swipe to the right to make a call using the default number.
Swipe to the left to use S Voice to begin a new text message.
Note: Before creating your first outbound message using the Galaxy Gear, you must first accept the terms of use for the S Voice application on your target smartphone. For detailed instructions on related calling features and functions, see Calls.
Dialer
This application allows you to make new outgoing calls
From the Home Clock screen, scroll to and then tap Apps > Dialer.
Enter the phone number and then tap Call icon . For more information, refer to Calls.