How To Sync Device To PC - LG G Pro 2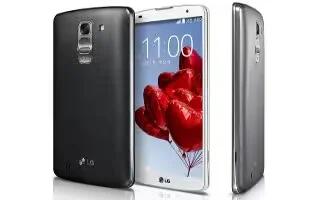 Learn how to Sync Device To PC on your LG G Pro 2. Data from your device and PC can be synchronized easily with "LG PC Suite" PC software for your convenience. Contacts, schedules and bookmarks can be synchronized. The procedure is as follows:
Connect your device to PC. (Use a USB cable or Wi-Fi connection.)
The USB connection type will appear, then select LG software.
After connection, run the program and select the device section from the category on the left side of the screen.
Click Personal information to select.
Select the checkbox of contents to synchronize and click the Sync button.
Note: To synchronize your phone with your PC, you need to install LG PC Suite onto your PC. Please refer to previous pages to install LG PC Suite.
Moving contacts from your Old Device to your New Device
Export your contacts as a CSV file from your old device to your PC using a PC sync program.
Install "LG PC Suite" on the PC first. Run the program and connect your Android mobile phone to the PC using a USB cable.
On the top menu, select Device > Import to device > Import contacts.
A popup window to select the file type and a file to import will appear.
On the popup, click the Select a file and Windows Explorer will appear.
Select the contacts file to import in Windows Explorer and click the Open.
Click OK.
A Field mapping popup to link the contacts in your device and new contacts data will appear.
If there is a conflict between the data in your PC contacts and device contacts, make the necessary selections or modifications in LG PC Suite.
Click OK.