How To Set Up Accounts On Samsung Galaxy Tab 2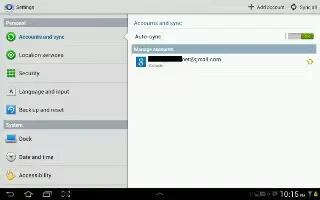 Set up and manage your synchronized accounts with the Accounts and sync setting on your Samsung Galaxy Tab 2.
From a Home screen, touch Apps > Settings > Accounts and sync.
Touch Add account, and then touch the account type.
Follow the prompts to enter your account credentials to complete the set-up process.
The device communicates with account servers to set up your account. When complete, your account displays in the Manage accounts area of the Accounts and sync screen.
Note
This article will work on both Samsung Galaxy Tabs; including Samsung Galaxy Tab 2 7.0 and Samsung Galaxy Tab 2 10.1.