How To Insert SIM Card - Samsung Galaxy Note Pro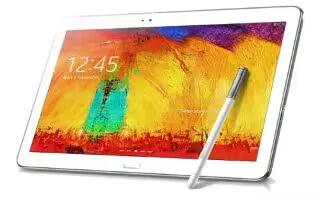 Learn how to insert SIM card on your Samsung Galaxy Note Pro. Your device uses a 4G LTE SIM (Subscriber Identity Module). The 4G LTE SIM is a small, rectangular plastic card that stores your device number, information about your wireless service, and may contain other information such as messages and contacts.
The SIM card is installed in a slot on the top of your device. If you purchased your device at a Verizon Wireless store, the SIM card is activated and ready to use. If you ordered a new device, the card may need to be activated before you can use it.
Note: Do not bend or scratch the SIM card. Take care when handling, installing, or removing the SIM card, and avoid exposing the SIM card to static electricity, water, or dirt. Keep the SIM card out of reach of small children.
Note: Turn the device off before installing or removing the SIM card. To turn the device off, press and hold the Power/Lock Key.
Installing the 4G LTE SIM Card
Locate the SIM card slot on the bottom right side of the tablet.
Make sure the gold contacts of the SIM card face downward and that the notched corner of the card faces inward toward the left (as shown).
Carefully slide the SIM card into the SIM card socket (as shown) until the card locks into place.