How To Improve Battery Life - LG G Flex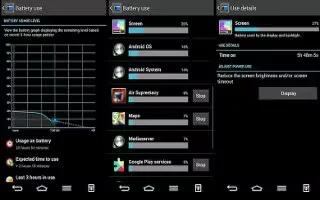 Learn how to improve battery life on your LG G Flex. See how much battery power is used for device activities. The battery level displays in a percentage. The remaining time of use is also displayed.
Battery percentage on status bar
Displays the battery percentage on the Status Bar.
Battery saver
Tap the switch to turn this feature on or off. Tap Battery saver for the following options.
Turn Battery saver on: Select the level at which you want to turn on the Battery saver function.
Auto-sync: Turns off Auto-sync.
Wi-Fi: Turns off Wi-Fi if data is not in use.
Bluetooth: Turns off Bluetooth if it's not connected to a device.
Vibrate on touch: Turns off touch feedback.
Brightness: Adjusts the brightness.
Auto-adjust screen tone: Turns on auto-adjust screen tone.
Screen timeout: Adjusts the screen timeout.
Notification LED: Turns off the notification LED.