How To Customize Contacts Display Options On Samsung Galaxy Tab 2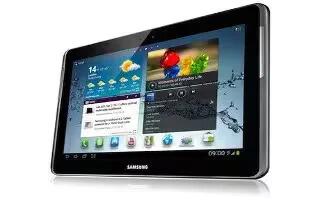 There are various ways to display your Contacts and general Contacts settings on Samsung Galaxy Tab 2.
From a Home screen, touch Apps > Contacts.
Touch Groups, Contacts, or Favorites, above the Contacts List, to view contacts various ways:

Groups: Displays the possible Groups, such as Not assigned, Co-workers, Family, Friends, and so on. The number of contacts in the group is displayed next to the group name. Touch a group name to show only contacts in that group.
Contacts: Show all your contacts. Touch the Find contacts field and enter a keyword to list contacts that contain that keyword.
Favorites: Show only your favorite, or starred, contacts.

From the Contacts list, touch Menu to display all or some of these options:

Delete contacts. Touch and check mark the box next to each contact you want to delete or touch tick icon Select all, touch Delete, and then touch OK.
Merge with Samsung account: Merges the current contact with your Samsung account contacts.
Merge with Google: Merges the current contact with your Google account contacts.
Send email: Sends an email to the selected contact.
History: Displays information about the selected contact.
Join contact: Join a contact to one or more other contacts.
Mark as default: If a contact has multiple email addresses, for example, touch the field that should be the default value.
Share namecard via: Shares the selected namecard using Bluetooth, ChatON, Dropbox, Email, Gmail, or through Wi-Fi Direct.
Print namecard: Check mark the fields you want to print and then touch Print. You can only print on a Samsung printer.
Contacts to display: Select the contacts you want to display in this inbox (All contacts, Google, Device, or Customized list).
Import/Export: Use the USB cable to import your contacts from, or export your contacts to, a storage device, such as a PC.
Accounts: Displays the Accounts and sync screen so you can manage or synchronize this account.
Settings: Configure contact settings:

Only contacts with phones: Touch to check the box to only display contacts that have phone numbers.
List by: List contacts by First name or Last name.
Display contacts by: Display contact names as First name or Last name first.

Contact sharing settings: Sets parameters for sending contact information:
Send all namecards: Allows you to transmit all of your current Contact entries at a single time. If the recipient device does not support this feature, some or all Contact entries might not be received.
Send individual namecards: Allows you to transmit single contacts, one at a time. The recipient must accept each namecard as it is received. This method of transmission ensures all contacts are received.
From the Groups list, select a group and then touch Menuto display these Group-specific options:

Search: Search the group for a contact.
Delete: Touch one or more groups and touch tick icon Delete.
Edit: Change the Group name or touch Add member to add or delete group members.
Add member: Add a new member to this group.
Remove member: Remove a selected member from this group.
Send email: To send an email to one or more members of the group, touch and check mark the box next to each contact you want to send to, or touch Select all, and touch tick icon Done. Touch Compose Gmail or Compose Email as the method for sending the email.
Change order: Changes the order of how the groups display.
Note
This article will work on both Samsung Galaxy Tabs; including Samsung Galaxy Tab 2 7.0 and Samsung Galaxy Tab 2 10.1.