How To Configure Text To Speech On Samsung Galaxy Note 2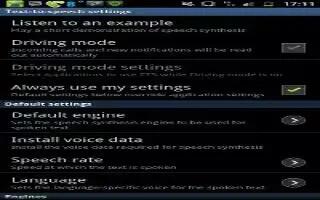 The Text To Speech feature allows the Samsung Galaxy Note 2 to provide a verbal readout of on-screen data such as messages and incoming caller information. This action is called TTS (Text To Speech).
From the Home screen, press Menu key and then tap Settings > Language and input > Text-to-speech output.
Select a current Preferred TTS engine from the list of available options. Select Google Text-to-speech Engine or Samsung TTS. The default is Google Text-to-speech.
Tap Settings icon next to the preferred TTS engine configure the following settings:

Language: allows you to set the language for spoken text.
Settings for Google Text-to-speech Engine: allows you to view Open Source Licenses.
Install voice data: allows you to install voice data for speech synthesis.
Settings for Samsung TTS: allows you to configure the settings for the Samsung TTS system if the option is enabled.

Configure the General options to alter the settings associated with this feature:

Speech rate: adjusts the rate at which on-screen text is spoken by the device. Choose from: Very slow, Slow, Normal, Fast, and Very fast.
Listen to an example: plays a short example of what the text-to- speech feature sounds like on your device when activated.
Driving mode: incoming calls and new notifications are automatically ready out loud. In a single motion touch and slide Off icon to the right to turn it on.

Once active, tap the Driving mode field to reveal the associated settings.

Select those applications that will use TTS while driving mode is activated. Choose from: Incoming call, Message, New emails, New voicemail, Alarm, Schedule, or Unlock screen.