How To Answer Calls - LG G Pro 2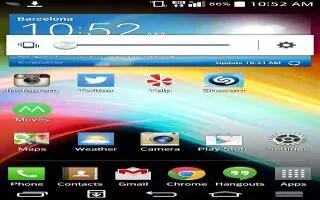 Learn how to answer calls on your LG G Pro 2. When you receive a call in Lock state, swipe Call icon the in any direction to Answer the incoming call.
Swipe the Reject icon in any direction to Decline an incoming call.
Swipe the Decline with message icon from the bottom if you want to send a message.
Note: Decline with message
You can send a message quickly using this function. This is useful if you need to reject a call with message during a meeting.
Adjusting the in-call volume
To adjust the in-call volume during a call, use the Volume up and down keys on the lefthand side of the phone.
Making a second call
During your first call, touch Menu key > Add call and dial the number. You can also go to the recently dialled numbers list by touching or can search contacts by touching Contacts icon and selecting the contact you want to call.
Touch Call icon to make the call.
Both calls are displayed on the call screen. Your initial call is locked and put on hold.
Touch the displayed number to toggle between calls. Or touch Merge calls icon to start a conference call.
To end active calls, touch End or touch the Home key and slide the notification bar down and select the End call icon.
Note: You are charged for each call you make.