HCL ME Android tablet expected to sell at Rs. 14,990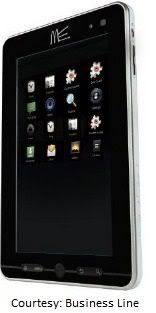 Yet another low cost Android tablet seems to be HCLs. The HCL ME tablet, an Android 2.2 Froyo tablet, expected at a starting price of Rs.14,990 according to the reports in Hindu Business Line. It is the same manufacturer bagged to provide the 1 lakh units of Rs.1,500 or $35 for the university students.
The Android HCL ME tablets will come in three editions HCL ME AE7, HCL ME AM 7, and HCL ME AP 10A tablet. The report says the tablets will be available in 7-inch and 10-inch screen sizes. The prices according to them is Rs.14,990, Rs. 25,790 and Rs. 32,990 respectively. According to the report the HCL will officially announce the ME tablets later this week. So, lets wait and watch for the official announcement from HCL.