Asus Eee Pad Transformer Tablet Launched
Asus has introduced its new Eee Pad Transformer Tablet with a full size mobile docking station that allows the device to be used as a notebook. The tablet runs Android 3.0 Honeycomb update with new Asus MyWave User Interface on top on it. A 1GHz Nvidia Tegra2 Processor has 10.1-inch touchscreen display, dual cameras and an HDMI out. The Asus noted that the tablet would be available in 16 GB and 32 GB storage capacities and prices range from $400 and $700 approximately.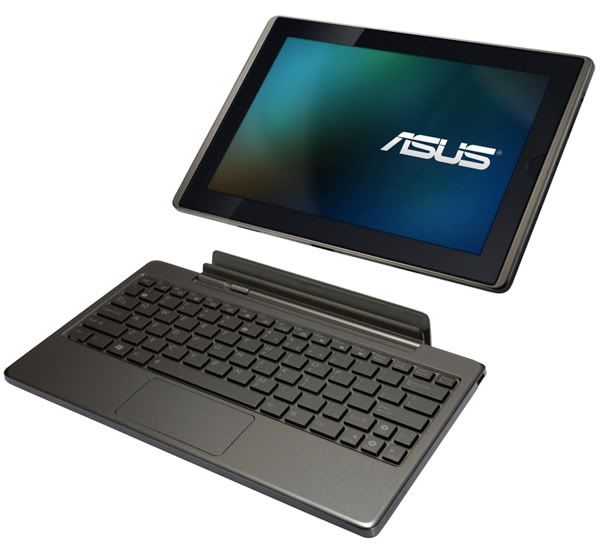 Asus Eee Pad Transformer tablet has 10.1 inch IPS panel based touchscreen display, supports 1280800 pixel resolution. The touchscreen is capable of full 1080p HD palyback and also has Adobe Flash Player 10.1 support. The important feature of the tablet is 1 GHz Nvidia Tegra2 Processor and 1 GB RAM that will not only power the tablet but also ensure the full HD playback. The back panel lays 5MP camera with auto-focus and front panel with 1.2 MP camera for video chat. The connectivity is through Wireless-N and Bluetooth. The tablet offers the USB port, built-in card reader and HDMI out port. Googles Android 3.0 Honeycomb running the Transformer features Asus MyWave UI and has WaveShare Network media sharing system along with other features. It also includes Gravity sensor, Ambient Light Sensor, E-Compass, Gyroscope and GPS.
Asus offers an additional mobile docking station which is basically a full QWERTY keyboard to be connected with the tablet. The QWERTY keyboard has the Android function keys. The mobile docking station is for extending the battery life up to 16 hours. The stand-alone tablet only offers the battery life of 9.5 hours. The new Asus Eee Pad Transformer joins the Android tablets Samsung galaxy Tab 10.1 and Motorola Xoom. Lets wait and see the Asus will made the tablet available globally or not.