Creatives 7-inch ZiiO Tablet Gets Froyo. 10-inch Tablet Will Follow The Suit
Creatives ZiiO tablet users there is good news for you. Coming Friday, the 7-inch tablet gets the first Froyo update, where its 10-inch tablet will expect to follow the suit by April this year. So, the users will get the greater language support, new passcode options, the ability to install apps on the external storage, a text-to-speech engine. Once the update is available you can download it from either the Creatives Website or tablet ZiiOs Space portal. By all the means, feel free to butter up the folks over at xda-developers to slap some Honeycomb onto these ZiiOs instead.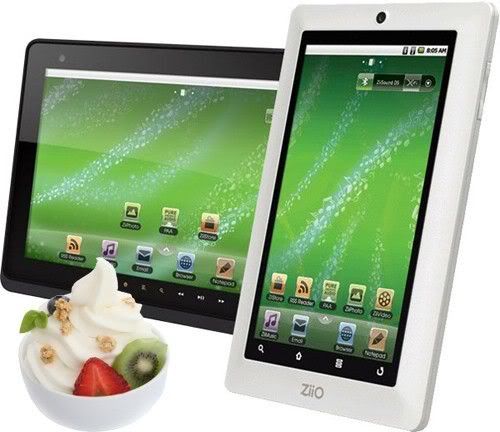 Press Release
Android 2.2 OS Upgrade Now Available on Creative ZiiO 7" Tablet
Free Web Upgrades for Current Users Will Start 25 March 2011
Creative Technology Ltd has upgraded its Creative ZiiO 7" Android-based tablets to Android 2.2. Current Creative ZiiO 7" owners will be able to enjoy a free upgrade via support.creative.com or the ZiiO Space portal found on their tablets, beginning 25 March 2011.
In addition, the Creative ZiiO 7" with Android 2.2 will begin shipping on 18 March 2011*, while the Creative ZiiO 10" is expected to ship with Android 2.2 by April 2011.
Users of the Creative ZiiO tablets with Android 2.2 can look forward to enjoying these enhancements
Flexibility to install apps using either on-board memory or external storage media
Flexibility of viewing pages in both desktop and mobile formats which means that pages can now be seen in their original lay-out without truncation
Improved security with the addition of numeric pin or alpha-numeric password options to unlock device
Greater localised language support added
Text-to-Speech Engine
For more information on the Creative ZiiO tablets, please visit www.creative.com/purewireless.
For full details on in-country availability, please visit www.creative.com. Purchasers who have bought Creative ZiiO 7" tablets with Android 2.1 at local stores can easily upgrade to Android 2.2 free of charge by visiting support.creative.com.?