Google Sends Out Invites For September 29 Event In San Francisco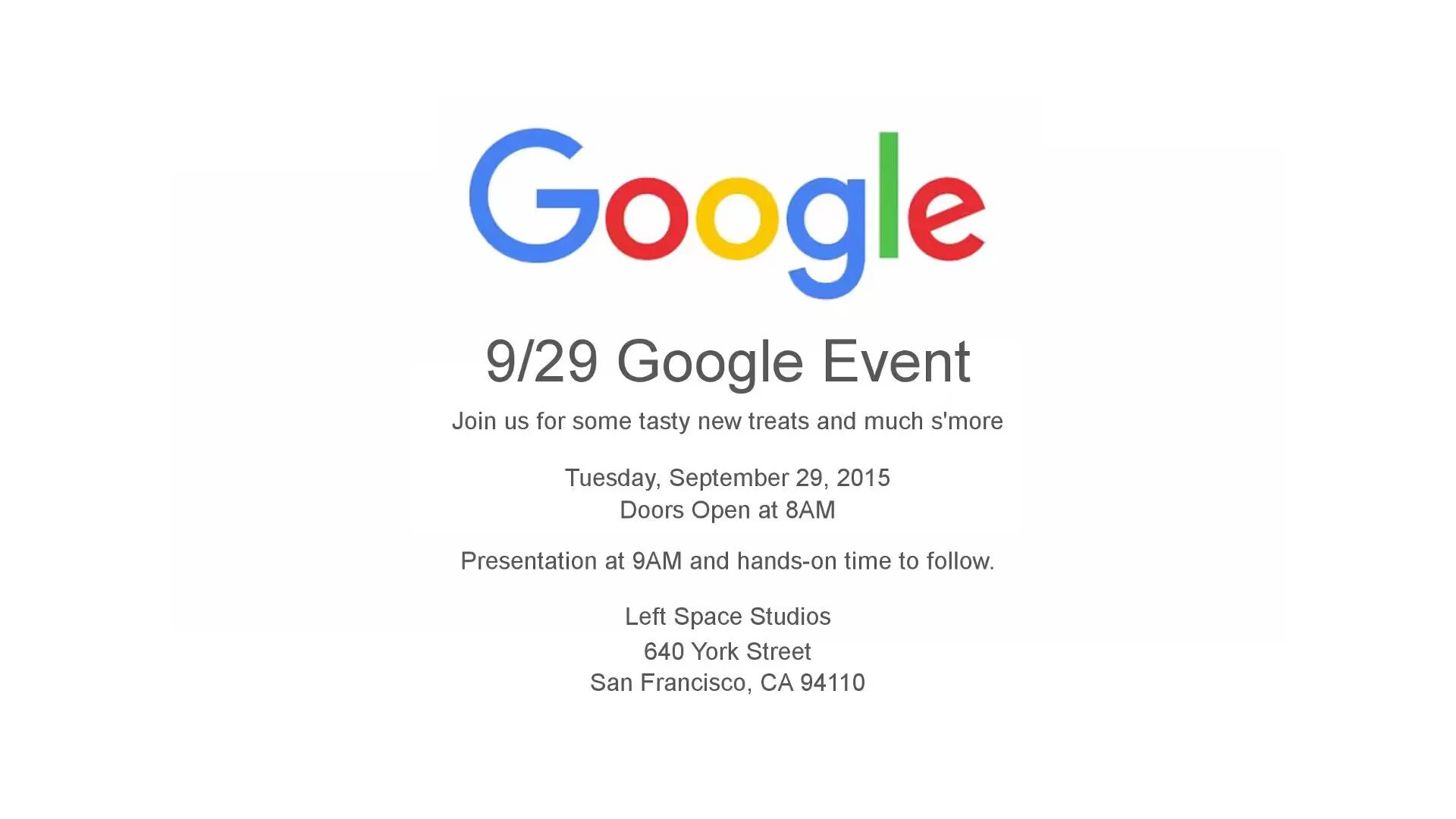 Google has sent out invites for an event that will take place at the Left Space Studios in the Mission District of San Francisco on September 29. Google has not explicitly stated that it will be showing off either new Nexus smartphone, however, it does states that it will show off "some tasty new treats", at the event.
If we go by the rumors, then Google, as a part of the presentation, will reveal the two new Nexus smartphones. One made by LG - Nexus 5X and the other, a larger model, manufactured by Huawei called Nexus 6P. This will be the first time that Huawei will manufacture a smartphone for Google, while for LG, this would be the third time that the company will make a Nexus smartphone for Google, following the Nexus 4 and Nexus 5 smartphones.
Although different sizes and specifications, they will, likely both feature USB Type-C connectors and fingerprint sensors. These two Nexus smartphones might also be the first to run Android 6.0, nicknamed Marshmallow.
In addition, Google might also unveil the second-gen Chromecast streaming device. This platform will give Google a chance to highlight the final version of Android Marshmallow as well.
The event will be live streamed on Google's official YouTube channel so those who are not able to attend the event in person will be able to see things unfold live on the web.
Following the event, Google will also have a hands-on time, which would be presumably for attending journalists covering the event to see the products close up and spend some time handling them.
The products that could be unveiled are
Android Marshmallow
Huawei Nexus 6P
LG Nexus 5X
Google Chromecast
According to the rumors, the Huawei Nexus smartphone will sport a 5.7-inch QHD screen translating to 2560 x 1440 pixels, a metal body, Snapdragon 820 SoC and a fingerprint reader. It is also believed that Huawei Nexus 6P will come with a 128 GB onboard storage.
The LG Nexus smartphone will feature a 5.2-inch screen, a rear fingerprint scanner along with a metal frame and plastic rear. In addition, the front panel will showoff dual-stereo speakers. Other rumored specifications include a 3D camera along with a Qualcomm Snapdragon 810 chipset. On the camera front, the smartphone will have a 12.3-megapixel camera and a front-facing 5-megapixel camera. The device will be available in 16GB and 32GB models. The report also suggests type C USB port and a 2700mAh battery.
The brand new Chromecast hardware will be completely different from the older Chromecast. It will no longer be a dongle form factor. Apart from a different design, the new generation Chromecast will feature 802.11ac wireless standard and will have support for 'content feeds' which could probably be your social media feeds or image feeds, which can play when your Chromecast is in the screensaver mode.
Although the company itself has confirmed nothing about the agenda, we have a good idea of the specs and features for most of Google's upcoming hardware announcements. Users, who are not invited, will be able to see the live event on September 29 at 9AM PST, through Google's YouTube channel at youtube.com/google.