Apple iPad 2 Has Been Unveiled
After all the fanfare and rumors, Apple has finally unveiled its second generation iPad that is thinner, lighter, faster with smart covers.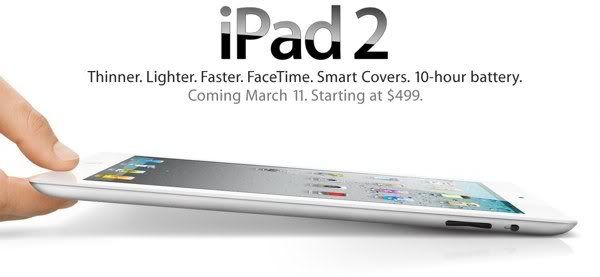 The new iPad 2 boast a hardware specification of 1GHz Apple A5 processor (this is 9 times faster than the first iPad), 9.7 inch Multi-Touch display, WiFi and optional 3G, Bluetooth, Front/Rear cameras with video recording, a digital compass, a gyrometer, an accelerometer and an ambient light sensor.
It also features Smart Covers which by Apples term can be explained as.
The slim yet sturdy Smart Cover protects your iPad screen without covering up its durable aluminum back.1 So your iPad still looks and feels like an iPad just with a little extra protection. Even better, the Smart Cover doubles as the perfect movie-watching, game-playing, web-surfing, do-it-all companion. It folds in all the right places so you can quickly create a stand that holds iPad upright. Or one that lets you tilt iPad into a comfortable typing position. If you prefer to hold iPad, the Smart Cover flips back and out of the way like a page in a magazine. And if you want to shoot some HD video on the fly, the Smart Cover folds in half to expose the back-facing camera. Now thats something to smile about.
The Full specification can be found below
On the software side, it will have AirPlay for streaming media, AirPrint to print documents through wireless connection, FaceTime for video chatting. The iPad 2 will also have access to GarageBand and iMovie which lets you play different instruments and edit videos respectively.
The iPad 2 will be hitting the US stores on March 11, while other countries can expect it around March 25.
The speculated price for the basic model with only WiFi is about $499 for 16 GB version, $599 for 32 GB version and $699 for 64 GB version. The advanced model with WiFi and 3G will cost around $629 for 16 GB version and While the 32 GB and 64 GB versions will cost $729 & $829 respectively.
Video - Introducing iPad 2
---
---