6 Free Automation Apps To Automate Tasks On Your Android Phone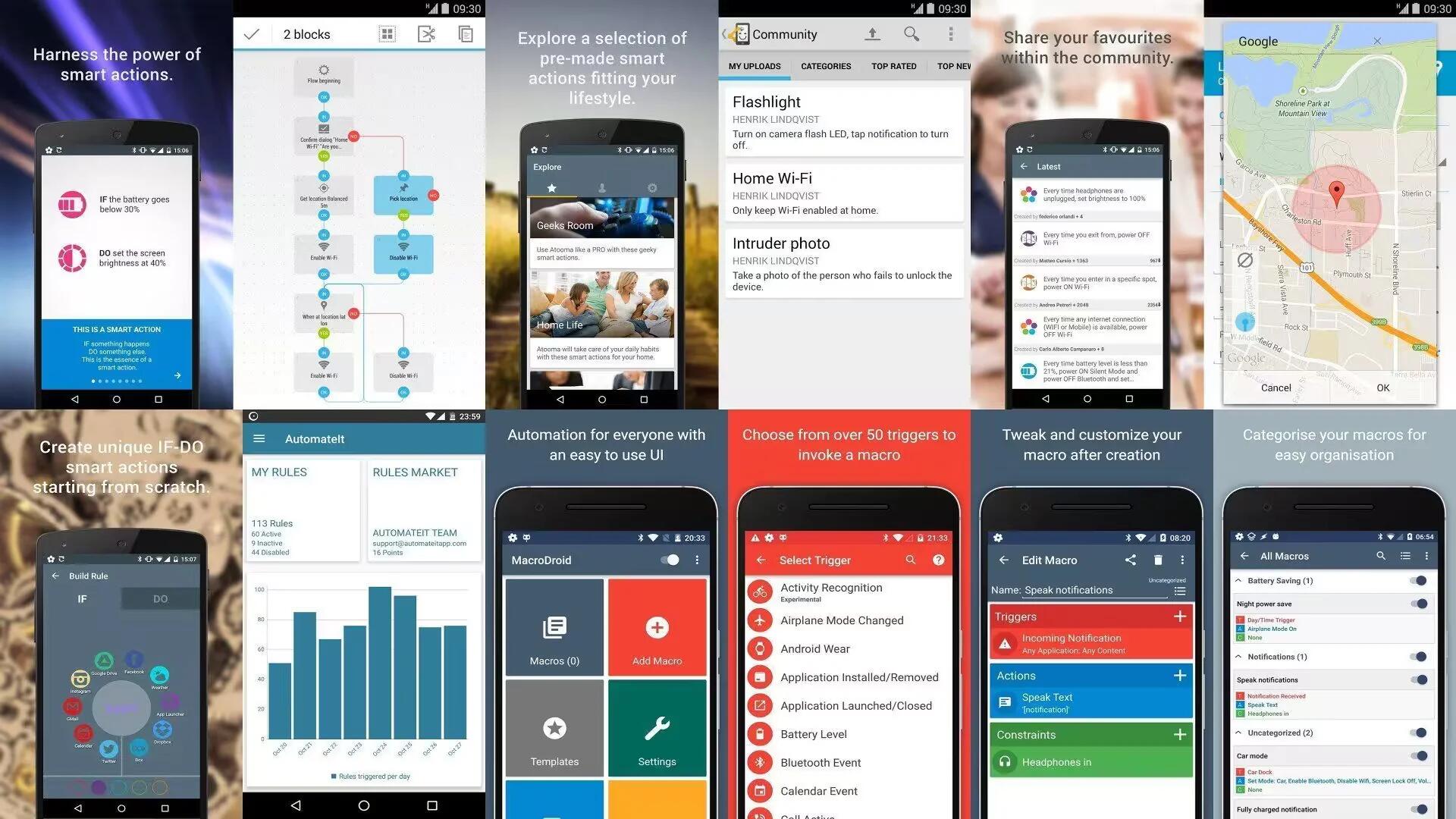 One thing most people love about Android is the freedom to create that is open source identity affords us. Many developers have created stunning apps that can really push your Android device to do smart things, including automate menial and repetitive (but essential) tasks to make your life much, much easier. For example, when you are at home, you may want your smartphone to automatically switch to use your Wi-Fi, so you are not consuming data from your cellular data plan. On the other hand, when you are on the road, you want your phone to turn off things like Wi-Fi and GPS to save batteries.
However, if you are going to start automating your Android smartphone, you might as well take that process beyond network switching and use automation to automatically launch apps, open up web pages and open up files on a set schedule. The more tasks you automate with your smartphone, the less you have to remember, and the less likely that you will forget important tasks.
Here are a few top apps that can assist you in automation of your Android handset. You can automate everything you wish by creating tasks that your device will do automatically.
1. AutomateIt
AutomateIt is yet another automation app. You can define a set of desired behavior based on some triggering actions. You can teach your device by creating rules or getting the rules from the market, the triggers are SMS, any settings state, app, a screen on/off and much more. Based on plenty of triggers, you can do actions like tell or change notification , play sound, change any settings, toggle location, start any app, call some number, SMS someone, shutdown the device (root required), reboot ( root ), enable disable other rules, vibrate, kill application or launch home screen and many more.
AutomateIt allows you to create your smartphone smarter enough to take decisions of your choice on its own.
2. MacroDroid
ArloSoft's MacroDroid app lets you set up custom actions that are triggered whenever a particular set of circumstances is met. For example, you can get your phone to automatically upload the last photo you took to Facebook when you shake the handset.
You can use it to turn off Bluetooth, silence your phone, disable data when you are at the office, home or outside. You can even set it to read aloud incoming text messages for you or make a quick photo upload to your favorite social network by simply shaking your phone. There is also a template section where you can use ready-made macros instead of creating your own.
The free app is ad-supported and only lets you create five macros, but you can upgrade to the Pro version via an IAP, which will give you unlimited freedom to set up your own macros.
3. Atooma
Atooma is packed with a bunch of ready-made smart actions or you can make your own, working along the principle of 'if this happens, do that'. With that, you can create your trigger and action rules.
You can use it to program quite complex rules -- it can handle up to five conditions (things that trigger the automated task) and five reactions (things that the automated task does) for every rule you set up. For example, you can get it to set your phone to be quiet if you get home from work after the kids have gone to bed.
The interface is color-coordinated to make it easier to setup rules and triggers. Not big on setting up rules? Then download rules or draw inspiration from what other Atooma users have setup.
4. Llama
With Llama, you can trigger an action on your device when you are at a designated location. It uses your cell tower to detect your smartphone's location; it is not GPS-dependent. Trigger your Bluetooth headset to connect to your phone when you are out for your morning run, or trigger your reminder to pick up groceries if you are near your favorite grocery store.
5. Automate
Automate various tasks on your Android smartphone or tablet. Create your automation with flowcharts, automatically change settings like Bluetooth, GPS, Wi-Fi, NFC or perform actions like sending SMS, e-mail, based on your location, the time of day or any other triggered event. You can automate almost everything, Automate even supports plug-in made for Tasker and Locale.
6. E-Robot
This is an automation application which makes it possible for your device to execute commands automatically. When you create a command you can specify which actions to execute when a given event occurs.
The application is an alternative to other similar applications (asker, AutomateIt, Llama, Locale, Profiles) to automate tasks, handle profiles, etc.
The application allows you to specify more than 170 event types and execute more than 150 action types; furthermore, all event and action types can be parameterized, making the app even more versatile, and its functionality may be expanded in the future.
E-Robot can handle events which are location-based, time-triggered, application-handled, and more. The Wi-Fi-based location detection is a perfect usage of the new "Scanning always available" feature of Android 4.4 even if Wi-Fi is disabled.
See Also: