11 Best Keyboard Apps For Android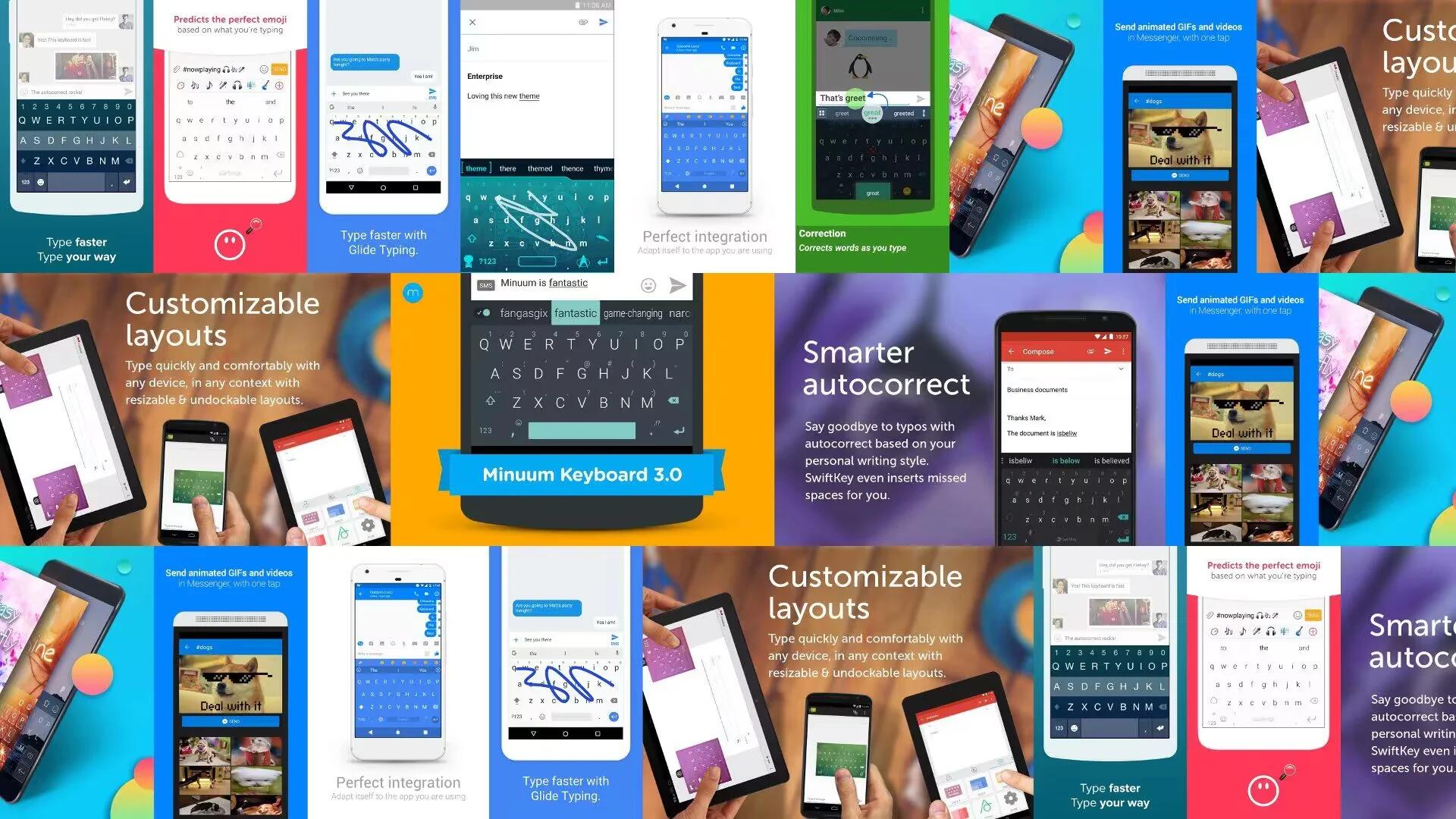 Android is not only a popular mobile OS, it is also the one that offers most customization. You can change every aspect of the Android interface and the keyboard is no different. For many people, the default keyboard that comes on their devices is passable - and for good reason, it is a solid and dependable option. However, it does not necessarily make it the most fun, easy to use or most productive option available.
While devices from manufacturers like Samsung, HTC, Sony come with their own keyboard solution that is pretty decent, they are not your only options. The beauty behind Android's flexibility is that it is easy to replace the pre-installed keyboard with a new virtual keyboard with a slightly different layout and features that outperform your default fare. There are a number of great keyboard apps on the Google Play Store that are very feature rich or bring much customization.
Our smartphone's keyboard is an important entity of our experience and everyone has their own preference when it comes to finding the perfect keyboard. It is also important to know the risks of keyloggers and other malware by using a third-party input device. That is why we have tried most of the keyboard apps from the Play Store and found the best ones for you.
1. SwiftKey Keyboard
SwiftKey is definitely among the best Android keyboards ever and is a fan favorite. It has an aggressive and artificially intelligent autocorrect engine that learns the way you type and gets better at correcting your typos over time. Other features include themes, keyboard customization, a number row, and more. In addition, it also supports cloud syncing so all of your devices can stay up to date.
Something that sets SwiftKey apart is its floating keyboard. You can undock the keyboard, resize it and drag it anywhere on the screen to type, as well as enable a one-handed mode or turn it into a split thumb keyboard. These features are particularly useful on a larger device, such as a tablet.
It also has above average language support with over 100 languages supported. The keyboard and all of its features are free but you will have to pay for most of the themes through in-app purchases. The keyboard was recently purchased by Microsoft which turned many people away from SwiftKey but for now, it works as it always has.
2. Fleksy Keyboard
Fleksy Keyboard has become one of the most popular keyboard apps in a very short span of time and deservedly so. It is sleek and the keyboard looks amazing, thanks to some quirky animations and a ton of themes. Along with looks, the app lets you customize the size of the keyboard and its keys. It also packs extensions like Hotkeys, which lets you add a row of symbols or emojis that you use often.
While Fleksy does not support gesture typing, it relies on strong autocorrect software to correct your sloppy typing. And Fleksy's autocorrect is one of the best in the business. In addition, you can shrink or grow the keyboard for your needs, as well as change the colors and layout. Fleksy's privacy policy is sturdy, too, and clearly outlines what information the keyboard is able to see. It even allows you to opt out of any programs that you find uncomfortable.
Fleksy brings one of the best tap typing experience. It was used to set the world record for fastest texting twice, so if snappy response times and customization for speed are your things, this is the keyboard for you.
Not only is Fleksy free, the developers recently made all the included themes free, as well. The only in-app purchase you will find now is an unlock for additional extensions. You can add up to four for free, but additional slots will cost you $0.99 (£0.75 or AU$1.31) each.
3. Swype Keyboard
Swype is one of the oldest options for third-party keyboards. It has been around since the days of Windows Mobile, but it has come a long way since then. It is the first to bring trace/swipe typing to the world and it continues to remain a great keyboard solution. Swype is pre-installed on a lot of smartphones, so you might be already accustomed to it. Like most other apps on the list, Swype lets you customize the keyboard with various themes along with options to change the height, vibration duration, long press delay and more.
The app comes with a new Swype store that lets you download free and paid premium themes. In addition, it offers cloud sync along with backup of your words, personalization using Twitter and the ability to adjust the size of the on-screen keyboard. It also features Google's Material design keyboard theme, so if you want that look with Swype's functionality, you can have it.
Swype learns from you and you can backup or restore your personal dictionary. What sets Swype apart from all the other gesture typing keyboards, however, is its in-built dictation software, which is powered by Nuance's Dragon Dictation instead of Google's. The app also adds hotwords from users and news around the globe to keep you updated with the latest slang. It also features a number of cool gestures for tasks like select all, copy, cut and paste.
There is also voice dictation here and Swype likes to call it Dragon dictation. Overall, the trace typing remains great and although auto-correction can get it wrong a few times, you can live with it. Swype is available in a free version as well as a paid version which brings premium themes and more.
Swype is $0.99 (£ 0.75 in the UK or AU$1.31 in Australia) in Google Play with a variety of free and premium themes available in the Swype Store.
Free Trial
Paid
4. Microsoft Hub Keyboard
Microsoft's Hub keyboard might seem like an odd option in this list, but it brings some options that will be of particular interest to users tied into Microsoft's software ecosystem via Office 365. Instead of focusing on one-touch typing or other unique features, Microsoft's Hub Keyboard Preview is all about making your other apps - such as Word and Excel - easier to use. It is helpful for adding or sharing documents without leaving the app you are in, and it integrates quite well with Microsoft's services.
As such, if you sign in with your Office 365 account you will be able to search your documents or contacts directly from the keyboard. Even if you do not, the options shown above the otherwise mostly standard QWERTY include quick access to the clipboard, Web search (Bing, naturally) and thesaurus tools. Perhaps the best part is the ability to get live translations from one language to another as you type.
You can expand your clipboard, easily refer to recent files, and share content between your Office apps with ease. However, while it is smart in some ways, it is pretty limited in others - primarily the ability to customize the layout or theme. You can switch to a dark theme but that is your only other option and there are not any size controls for the keyboard at all, which could make it a poor option for larger phones. Hub Keyboard is also lacking powerful autocorrect and gesture input, so it may not be your daily driver.
Microsoft Hub Keyboard functions best with an Office 365 account, sure, but if you are an Office power user, you will likely find this keyboard very useful, and it may be faster or easier to switch to this keyboard than opening an entirely new app to share a document.
5. Swiftmoji
Swiftmoji is from SwiftKey and is one of the better emoji keyboards available on Android. While it is not feature-rich like other keyboards in this list, it does offer up predictive emoji based on the words (and context of the words) as you are typing, which comes in handy if you find yourself using them a lot. While it is not perfect, it is pretty good for a free app.
While it does not offer access to the same level of customization as with the main SwiftKey keyboard, you can still select from preset color schemes or enable a Dark Mode at night. You also get some of the same stats available in the main SwiftKey app, like taps saved, words swiped, etc.
As with the main app, for the best predictions you will need to sign in, give it permission to access your messages and use it for a while.
6. Chrooma Keyboard
Chrooma Keyboard is one of the newer Android keyboards in the space, but it is definitely one of the most customizable. It is very similar to Google Keyboard both in usability and design. But it comes packed with a ton of customizations, such as a split mode for thumb typing, night mode, and standard emoji, not those hideous Android ones.
Unlike Google Keyboard, the number row at the top of Chrooma Keyboard can be swiped left or right to access clipboard controls or frequently used emoji. And if you purchase the premium unlocks, you can customize everything just a little bit more.
It comes with gesture typing, keyboard resizing, and you can change the color of the keyboard to suit your theme or tastes. Additional customization options also include a number row, emoji, and support for 60 languages. It is cheap and a good option if you want something customizable and simple. The keyboard is free with the themes costing extra.
If you are fine with the included features, Chrooma is free to use. Even if you don't pay for anything or sign in with your Google credentials, Chrooma is still fairly customizable in different ways and provides a wide feature set that makes it a good all-rounder. For example, you can input letters individually or use swipe input without needing to change any settings and the word predictions are fairly solid, though not always perfect.
Perhaps best though is the thought that is been put into accessing the options. Yes, you can go to the main Settings menu within the app, but you do not need to thanks to gesture support for common functions, like switching between one-handed mode with just a swipe of the keyboard in either direction. In addition, every time you change the app, it tries to replicate the colors with a Google-esque aesthetic, thus ensuring a stylish way to type.
7. Gboard
Gboard is Google's official stock keyboard. It is not the flashiest of the bunch, but if you want top-notch Android integration and assurance of total privacy, you cannot go wrong with Google's own lightweight keyboard. Available for any device running Android 4.0 and above, this one looks and behaves like yesterday's premium keyboards. The Google Keyboard rounds up some of the best features you'll find in other third-party apps, like themes, sound and vibration, layouts, auto-correction, support for tracing words in addition to typing them, speech-to-text, a dictionary that learns your style and predictive text.
Google Keyboard was previously an ugly looking keyboard but the Lollipop update has brought a sleek looking keyboard. It brings the best of both tap & gesture typing and the performance is great. There is also Google's voice typing in-built, so you can switch to voice in a single click. While there aren't many themes available, the ones that are available match Android's Material Design UI.
Its claim to fame, though, is that Google Search is built-in. That means you can conduct searches without leaving the keyboard space. There is also a GIF search, voice typing, and Google Translate. It's a powerful keyboard. The best part is that it's also totally free to use with no in-app purchases. Since it's developed by Google itself, you know there is no need to worry about malware, adware, or any nasty stuff on this app, either.
8. Ai.type keyboard
Ai.type keyboard is one of the most feature rich keyboard apps available on the Play Store. It is touted as the "smartest, most personalized" keyboard available, and if you are looking for a client that provides seemingly endless customization, then this is the one.
It comes with a lot of the standard features, including prediction, auto-complete, emoji, and keyboard customization. There is also over a thousand themes to add to your customization. Like others listed here, ai.type offers word prediction, auto-correction, and auto-completion. Additionally, you'll find more than 800 emojis, as well as support for dozens of languages. In ai.type, there is also a dedicated row of keys which changes between recent emoji, numbers, arrow keys, punctuation and accent characters.
Head to the Theme Market (in-app) and you'll find literally thousands of custom designed keyboards. Indeed, ai.type lets users configure colors, backgrounds, fonts, and more. Create your own special blend and share it with others. Ai.type also offers you a free theme every day.
The free version is a trial that lasts for 18 days and then you have to pay for full version. You can stay on the free version, but some features will disappear. It is available on Google Play for $3.99 (£3.12 or AU$5.29).
Free Trial
Paid
9. TouchPal Keyboard
TouchPal has been a great keyboard app on Android for a long time now but it did not receive any limelight until recently. It is a solid keyboard app that packs in all the features we have come to expect from Android keyboard apps. TouchPal comes with contextual predictions and powerful error correction. You can customize almost anything about the keyboard, be it the sound, vibration, font, height or width. The app also allows you to use custom keyboard keys.
It has built-in GIF support, emoticons and emoji, emoji art, a host of free and premium themes, customizable fonts, dialect dictionaries and even news headlines built into the app. You can gesture type, resize the keyboard or switch to a split keyboard, access your clipboard history and play games.
This keyboard is chock full of features, including an app locker to password protect certain apps. The free app also features voice recognition, emojis, stickers, one-touch writing, and other nifty tricks. It handles add-ons through an internal store, which also includes a miniature app store for advertising purposes. You do need to watch out, though, as the app is riddled with some full-screen ads if you do not pony up for an annual subscription ($4.99), which unlocks all the premium content. At least it does not feature any adware or other apps that will take over your device.
10. GIF Keyboard
If you like GIFs, then look no further. With GIF keyboard, you can easily find and share your favorite GIFs via Facebook Messenger, WhatsApp, and a host of other social platforms. This is not necessarily a traditional keyboard, but more so an app that you can load on the fly to search for your favorite GIFs. You can even mix GIFs with custom filters and change them before sending them out alongside your messages and chats.
It has quick access to commonly themed GIFs, trending GIFs, a search tool and a shortcut which will take you back to your normal keyboard. Depending on which app you are in, tapping to select a GIF will either paste the GIF URL in the text input field or automatically send the embedded GIF. Best of all, GIF Keyboard is entirely free.
11. Minuum Keyboard
Minuum, as the name suggests is kind of a miniature or mini keyboard for Android. It is one of the most strange keyboards and the only one that breaks from the traditional QWERTY layout. It is the most different keyboard experience you will get on Android and if you get used to it, you will love it.
Minuum takes the QWERTY keyboard layout and breaks it down to a single row and lets you use your screen estate in all its glory. The app supports QWERTY, AERTY or "A-Z" layout. To type quickly, it relies on its great word prediction and autocorrection. If you are a sloppy typer, you are going to thank us for suggesting Minuum.
That said, you can pull up on the suggestions bar to expand into a full QWERTY keyboard. There are a number of themes to choose from and under the Experimental & Advanced menu in Minuum settings, you will find bonus panels for emoji, cursor control, clipboard controls, search and share as well as typing speed. It has a built-in dictionary and thesaurus, and it includes one of my personal favorite features: inline emoji search.
Minuum takes a lot of getting used to, but after the learning curve. It is a potentially unnatural way to use a keyboard when you first try it but, providing you stick with it, you will almost certainly get faster. Whether or not you'll be able to go back to a normal keyboard so efficiently is a different question.
It also packs a ton of features into a very compact package. It does offer support for a range of languages and the ability to change the keyboard theme too, and there's an option that changes multiple times throughout the days automatically. It is currently $3.99 (£2.20 or AU$3.99) in Google Play. There is also a trial version, which is good for 30 days.
Free Trail
Paid
See Also