Windows Vista/7 - Display Useful Data With The Network Icon In The System Tray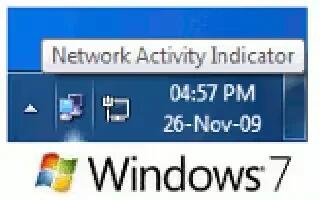 Long gone are the days, where you can hover your mouse over network icon to see information like amount of data transferred over the network. The last operating system to display these information in a speech bubble is Windows XP. With the arrival of Windows Vista and Windows 7, all you can see is whether a network is connected or not by hovering your mouse over the network icon. You can easily fix these by installing a free tool "Network Activity Indicator".
You can download Network Activity Indicator from www.itsamples.com. Click the link and download self-install executable with uninstall support on the page, install the program and run it. Windows 7 will auto hide the application icon. You can change this behavior by clicking on the arrow in the notification icon and selecting "Customize".
Now look in the window pop open, find "Network Activity Monitor" and change settings to "Show icon and notification". For more details check the article "Windows 7 - Successfully Filter The System Tray Icons" by Edward Ramamoorthy. Now the network icon provides detailed information about network traffic, total amount of data sent and received, etc, when you hover your mouse cursor over the network icon. You can query detailed information like "Network Statistics" or "Network Traffic" by right clicking the icon. In addition to this you can even jump to "Network and Sharing Center" or the status of the LAN configuration to the router to access important system dialogue boxes. I Hope this article will help you in getting more out your Windows PC. Please leave comments and suggestions for future articles.