Windows 7 - Successfully Filter The System Tray Icons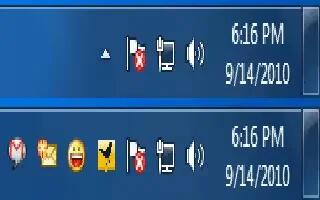 The system tray of Windows 7 keeps users up-to-date with messages. However, you may want to determine which icons and notifications should appear there.
You can right click on the taskbar and select "Properties" from the context menu.
Now Goto the "Taskbar" tab and click under "Notification area" on "Customize". The below dialog presents all possible applications and icons that can use the system tray area.
For each of this entry you will find a drop-down menu with which you can change the behavior of the system tray icon of the concerned applications. The following options are available for selection.
Show icon and notifications
This allows the icon into the system tray and includes necessary messages such as simple speech balloons.
Hide icon and notifications
Hides the icon and any messages from the application from displaying.
Display only notifications
This will hide the icon application icon from the system tray. But you will continue to receive information and messages from the application.
Note: The application icon will be displayed temporarily when an information or message from the application is displayed. Apart from these you can also change the way notification / system tray behavior
To turn off all the system application icons like battery, sound, network, etc, Click on the "Turn system icons on or off" and select the icons to hide. To display all the system icons in the taskbar, rather than the standard "Corral View", check the "Always show all notifications on the taskbar" Click "Ok" to confirm the changes.
With Windows Vista, you can make similar change but, you cannot differentiate between icon and notifications. You can only specify whether Windows hides or displays an icon.