Quick Review: ASUS EAH6950 Direct CU II Graphics Card
Asus is know to launch some good custom cooled graphics card and Asus Direct CU graphics card is the latest offspring of Asus Radeon lineup. This GPU is based on the Radeon HD 6950 with a mammoth custom heat sink.
Features
GPU: Radeon HD 6950
Memory: 1 GB GDDR5
Bus Width: 256 bit
Core Speed: 810 Mhz
Memory Speed: 1250 Mhz
Stream Processors: 704
Video Output: 2x dual link DVI and 4x DisplayPort
Price: approximately INR 21,000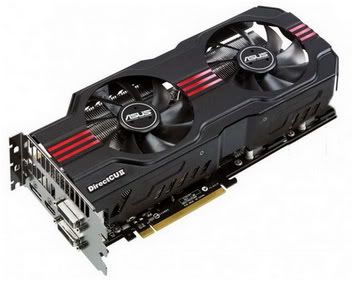 Quick Review
Asus Direct CU graphics cards had a much better custom heatpipe based cooler than the stock cooler, over the GPU. Asus has now changed this design, and now we have a mammoth cooler. The heat sink is slightly more than an inch in height and the two 90mm fans over it to add another inch. Due to this design the card takes up to 3 slots, one more than other high end cards.
The EAH6950 Direct CU II uses a custom designed PCB, so the heatsinks sit at the correct place. At 10.5 inches, this PCB is long as the reference design, but the metal shroud extends an inch further than the PCB. The rear panel has a pair of dual link DVI port and four DisplayPort. The card runs at stock speed and at 1920x1080, Crysis Warhead ran 39 fps on Enthusiast mode and 4x AA. With PhysX disabled and other effects to high, Mafia II ran at 67 fps.
For
Very good cooling
Silent
DisplayPort
Against
Bulky design
No HDMI
Conclusion
Asus EAH6950 Direct CU II is a good graphics card with a ridiculously large cooler on the stock HD 6950. This card runs silently and has a very good cooling. Our only concern is that, the reference dual-slot design with vapor chamber based cooler takes up less space and is much cheaper than this and does the same job.