Samsung Hints Lollipop Upgrade For Galaxy Note 4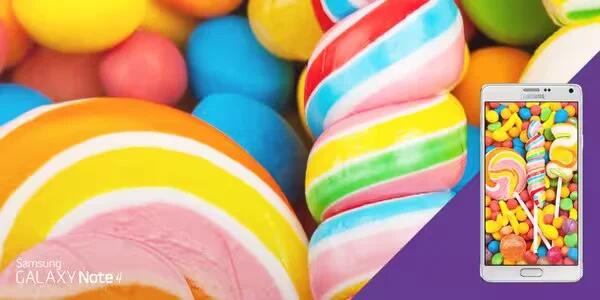 As we already reported on Motorola, Sony, and HTC devices mentioned plans to upgrade some devices to Android 5.0 Lollipop, now Samsung hints a upgrade through a Tweet for upgrading its Galaxy Note 4.
In a Twitter post Samsung is promoting the Galaxy Note 4 phablet and it seems to be hinting at a future lollipop update for the device.
Anyway you look at it, the #GALAXYNote4 Quad HD Super AMOLED display is pretty sweet, Samsung wrote, posting an image of the phablet with lollipops displayed on the screen (image above).
As we already reported; the Galaxy Note 4 and Galaxy S5, Samsungs 2014 flagship handsets, are likely to be the first ones to receive the Lollipop update, although Samsung is yet to make anything official. On a report SamMobile points out that the Galaxy Note 4 lollipop update may arrive in late November or early December.