Samsung Gear S2 Smartwatch Officially Announced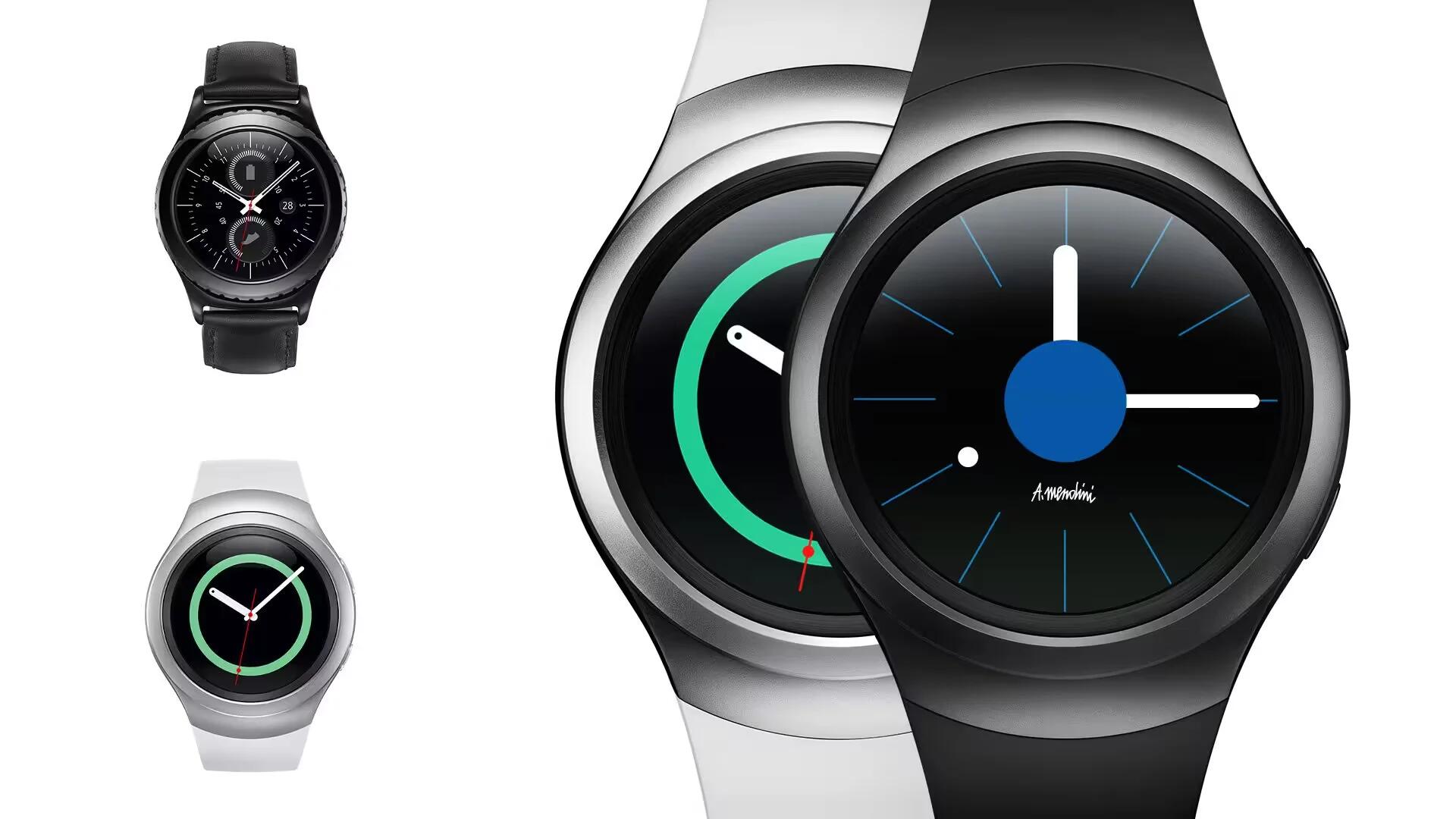 Today, Samsung has officially unveiled its newest smart watch, the Samsung Gear S2, the company's first round display smartwatch. Although there are number of smartwatches with round display, Gear S2 marks Samsung's first smart wearable with round display.
The Gear S2 is a bit different from other Android Smartwatches as it is running Linux based "Tizen" open-source operating system, instead of Android Wear. The Gear S2 comes in three varieties: Classic, standard, and 3G. The Classic version includes a black case with a black leather band and aims at customers "who prefer more timeless watch design". The standard version includes a dark gray case with a matching rubber band or a silver case with a white rubber band and is "ideal for those who are on the go and have an admiration for minimal and modern design."
The third model, the 3G Gear S2, features the same design as the standard model but includes a 3G radio to connect to 3G cellular networks. The 3G Gear S2 allows you to use it without a phone, unlike the Apple Watch and most other smart watches on the market.
As far as specifications go, the Gear S2 boasts a 1.2-inch circular display, which has a resolution of 360 x 360. Around the display is a rotating bezel, which is one of the primary control functions. There are a pair of buttons to help you with notification handling, one for Back and the other for Home.
The Gear S2 features a 1 GHz dual-core processor, 512 MB RAM, and 4 GB of storage space. It charges wirelessly, has two to three days of battery life, and includes NFC, Wi-Fi, and Bluetooth. Samsung says the Gear S2 is capable of mobile payments, but did not say whether that means just Samsung Pay, or Android Pay.
There is one big downside to the Gear S2, as it will not have access to Android Wear's growing collection of third-party apps. Samsung says it will keep you in tune with all of your texts, calendars, emails, breaking news, and fitness goals. (The 3G-compatible model will allow for voice calls, as well). Taking a cue from Apple, Samsung designed a new 24-hour fitness activity log for the Gear S2, which will let users view daily progress and get reminders to help them stay on track with fitness goals. Samsung also plans to release apps and watch faces designed specifically for the circular display of the Gear S2.
Beyond the built-in apps, Samsung will only say that it is working with developers to expand the ecosystem of Tizen but the selection apps available is behind Android Wear and the Apple Watch. Despite its drawbacks, the smartwatch looks beautiful, especially the watch faces and general user interface.
Samsung Gear S2 (both Bluetooth & 3G connected models) will be avail from Verizon. Availability & pricing will be announced at a later date

— Verizon News (@VerizonNews) August 31, 2015
You know your wrist wants it. Be there when the #SamsungGearS2 hits the Un-carrier this fall! pic.twitter.com/jNIaSPoI8h

— T-Mobile (@TMobile) August 31, 2015
Several major carriers including Verizon, AT&T, and T-Mobile US have already announced plans to sell the Gear S2. Samsung has not yet released pricing details on the Gear S2 or provided a release date, but the company plans to provide more information at the IFA 2015 consumer electronics trade show in Berlin, which starts later this week.
Samsung Gear S2 and Gear S2 classic Product Specifications
Display
1.2-inch, Circular Super AMOLED, 360x360, 302ppi
AP
Dual core 1.0 GHz
OS
Tizen based wearable platform
Audio
Codec: MP3/AAC/AAC+/eAAC+
Format: MP3, M4A, AAC, OGG
Memory
Storage: 4 GB Internal Memory / RAM: 512 MB
Communications Features
Contacts, Notifications, Messages, Email, Preset text, Voice Input, Emoticons, Keypads
Health & Fitness Features
S Health, Nike+ Running
Information Features
Schedule, News, Maps & Navigation, Weather
Media
Music Player, Gallery
Others
Voice, Voice Memo, Find My Device, Power Saving Mode, Safety assistance, Privacy lock
Samsung Services
Samsung Gear Apps
Connectivity
Wi-Fi: 802.11 b/g/n
Bluetooth 4.1
NFC
Sensor
Accelerometer, Gyroscope, Heart Rate, Ambient Light, Barometer
Dimension
Gear S2 : 42.3x49.8x11.4mm (47g)
Gear S2 classic : 39.9x43.6x11.4mm (42g)
Battery
Wireless Charging
250mAh Li-ion
Typical Usage 2-3 days
Samsung Gear S2 3G Version Product Specifications
Display
1.2-inch, Circular Super AMOLED, 360x360, 302ppi
AP
Dual core 1.0 GHz
OS
Tizen based wearable platform
Audio
Codec: MP3/AAC/AAC+/eAAC+
Format: MP3, M4A, AAC, OGG
Memory
Storage: 4 GB Internal Memory / RAM: 512 MB
Communications
Contacts, Notifications, Messages, Email, Preset text, Voice Input, Emoticons, Keypads
Health & Fitness
S Health, Nike+ Running
Information
Schedule, News, Maps & Navigation, Weather
Media
Music Player, Gallery
Others
S Voice, Voice Memo, Find My Device, Power Saving Mode, Safety assistance, Privacy lock
Water Resistant
IP68 Certified Dust and Water Resistant
Samsung Services
Samsung Gear Apps
Connectivity
Wi-Fi: 802.11 b/g/n
Bluetooth 4.1
NFC
Sensor
Accelerometer, Gyroscope, Heart Rate, Ambient Light, Barometer
Dimension
Gear S2 : 42.3x49.8x11.4mm (47g)
Gear S2 classic : 39.9x43.6x11.4mm (42g)
Battery
Wireless Charging
250mAh Li-ion
Typical Usage 2 days
Source: Samsung