Samsung Galaxy S9 And S9+ Specs, Images, Price And Release Date Leaked
The common belief is that Samsung will unveil its Galaxy S9 handset at Mobile World Congress next month. With official invites for a February 25th event going out earlier this week, we are seeing a lot of information leaked about both Samsung Galaxy S9 and Galaxy S9+. This Friday, Evan Blass, the well-known and reliable leaker, posted on VentureBeat our latest look at Samsung's upcoming flagship.
As expected, this year's iteration looks a lot like the Galaxy S8. Samsung did a major redesign last year, so we were expecting a phone that more or less looks the same. However, at first glance, the bezels on this device appear a fair bit larger. Thankfully, though, this is probably just due to this picture, as it does not account for the curved glass along the sides that hides excess bezel.
These are the Samsung Galaxy S9 and S9+ https://t.co/deXGg39m0d pic.twitter.com/RNGezrF4Bs

— Evan Blass (@evleaks) January 26, 2018
It is still a phone that is nearly all-screen with round corners, a battery of sensors at the top for Iris scanning, and a Bixby button for launching Samsung's horrible voice assistant. The main addition for 2018 is a new camera, which is expected to have a variable aperture.
What is interesting in this leak, though, are the specs being reported. Unlike last year, where the smaller and larger versions of the S8 only differed in screen size, there will be quite a few differences this time around.
VentureBeat offers a few details about the specs, too. The US and China get a version packing the Snapdragon 845, while the rest of the world will get Samsung's Exynos 9810. The report says the S9+ will get 6GB of RAM and 128GB of storage, and the S9 will have 4GB of RAM and 64GB of storage. VentureBeat also reportedly has a ship date nailed down: March 16.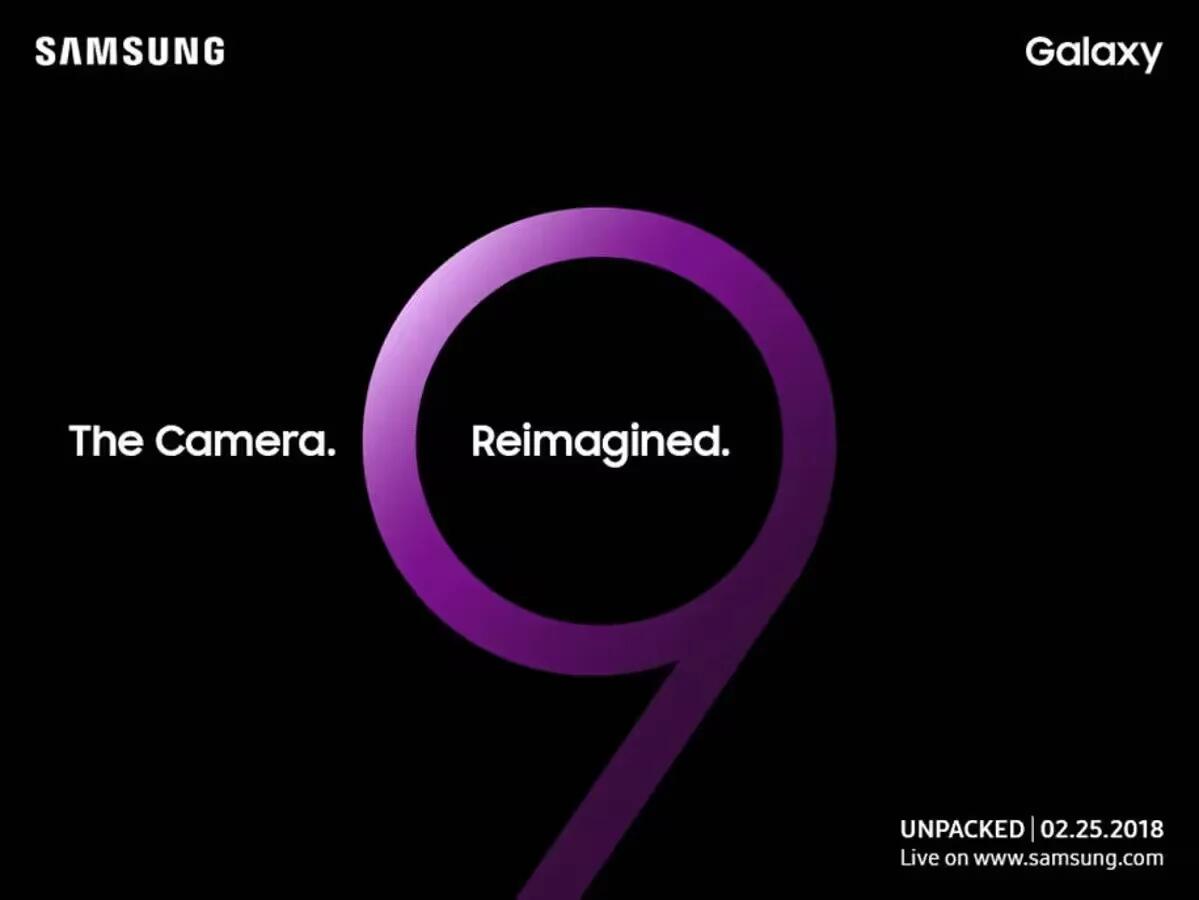 Samsung's invitation earlier this week took note especially of the camera sensor, mentioning that it was going to be "reimagined". As previously reported, this will be thanks to a new 12-megapixel camera sensor and the powerful processor which will enable super slow motion modes up to 480fps at 720p. This is further confirmed by Blass and both smartphones will have dual 12-megapixel primary cameras with a variable aperture that switch between f/2.4 and smallest-in-class f/1.5. It will also be able to record "super slow-mo" video. An 8-megapixel camera and stereo speakers are expected on the front of the handsets.
From early renders, it looks like the big design difference between the Galaxy S9 and Galaxy S8 will be the positioning of a cluster of cameras and sensors on the front of the devices. This could suggest Samsung is planning new facial recognition features to combat the iPhone X.
According to sources speaking to VentureBeat, the Galaxy S9 and Galaxy S9+ will include built-in AKG stereo speakers this time around. Samsung has yet to really leverage its acquisition of Harman International - the parent company behind premium audio brands like AKG, JBL and Harman/Kardon - which it bought in March 2017. The inclusion of AKG stereo speakers should dramatically improve the performance of the built-in speakers.
According to a C-level executive at a major casemaker, the go-to-market schedule for Galaxy S9 / S9+ is as follows:

Launch - 2/26
Pre-orders - 3/1
Ships/releases - 3/16

— Evan Blass (@evleaks) January 16, 2018
According to Blass, Samsung will make an official announced on February 26 at the MWC, and we can expect to place preorders starting March 1. The Galaxy S9 and S9+ will begin shipping on March 16. This is further evidenced by that date appearing in the official press shots.
SamMobile says its sources have also indicated a March 16 release date, though only for the U.S. and/or South Korea, with other markets to follow shortly afterward.
The Galaxy S8 and S8 Plus launched at $725 and $825, making them more expensive than their predecessors. Even though the Galaxy S9 and S9 Plus likely will not offer a lot more than the S8 series, rumors claim they might come with higher price tags.
If prices do increase, we will likely see a domino effect. The fact is that Samsung dictates pricing with its Galaxy S series. If the S9 will cost more, we can expect devices like the successor to the LG G6, Huawei P20, and HTC U12 to come with higher price tags as well.
Keep in mind that nothing has been confirmed yet. It is still possible we will not see a price hike and that the Galaxy S9 handsets will cost the same as their predecessors. What we can be sure of is that they will not be cheaper.