RiTdisplay Producing a-Si AMOLED Displays For Smartphones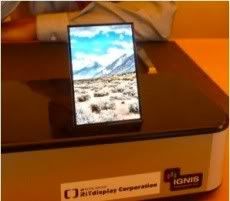 RiTdsiplay has now begins producing a a-Si AMOLED display, according to them developed in conjunction with Ignis Innovation, the 3.5-inch panel was first unveiled at last months SID display week, it beamed images in 320*480 resolution. RiT says its Si AMOLED displays are relatively inexpensive to produce, potentially producing to its LTPS-backplaned brethren. But the technology is now cost effective as RiT claims, for more details read the press release
Here is the Press Release
RiTdisplay Said to Provide Smartphone Makers With Unique AMOLED Displays
Taipei, June 2, 2011 (CENS)--RiTdisplay Corp., an affiliate of the Ritek Group, has been reportedly contracted to provide some smartphone makers with active-matrix organic light emitting diode (AMOLED) displays equipped with amorphous silicon (a-Si) backplane.
Contrast to the traditional AMOLED using low-temperature poly-silicon as backplane, RiTdisplay`s AMOLED is outfitted with a-Si backplane, making it the world`s first a-Si AMOLED.
According to Ritek executives, the affiliate`s products have been designed into display panels supplied by Igins of Canada, which develops the panels and drive ICs for the panels.
They pointed out that RiTdisplay has begun volume production of the 3.5-inch displays, which adopt Himax Technologies Inc.`s drive ICs and a-Si backplane the company co-developed with an undisclosed display-panel maker in Taiwan.
Jennifer Colegrove, vice president of market consulting firm DisplaySearch, noted that RiTdisplay`s a-Si AMOLED could become an alternative to LPTS AMOLED as smartphone display screen for its competitive costs.
The market consulting firm pointed out that it is a good timing for a-Si AMOLED to hit the market as scant output of LTPS backplanes has triggered supply shortage of LTPS AMOLED displays worldwide.