Print From iPad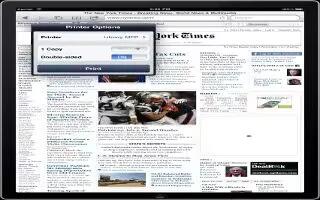 You can print from your iPad, for that the iPad should be running iOS 4.2 or later, can print wirelessly if you happen to own a AirPrint-enabled printer Lot of printers will support AirPrint which allows you to print from your iPad, iPhone (3GS or later) and iPod touch (3rd gen or later).
AirPrint will work for many of the built-in apps such as Mail, Safari, Photos, iWork and PDFs in iBooks. Third-party apps may also support AirPrint for wireless printing on the iPad. No software is required when using an AirPrint-enabled printer to print from the iPad, the only thing you need is to have the iPad connected to the same Wi-Fi network.
Print a document with iPad
Tap the arrow icon, the arrow icons might be slightly different depending on the application.
Tap Print.
Tap Select Printer to choose a printer.
Check out some of the printer options, such as number of copies and other goodies.
Tap Print.
You can double-click the Home button and tap the Print Center icon to see the status of the print job.
To cancel a print job, double-click the Home button, tap the Print Center icon, choose the print job and tap Cancel Printing.