Delete All Content And Settings On iPad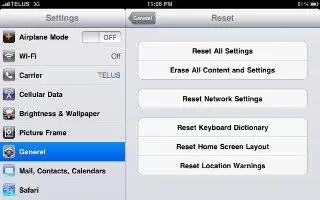 You can delete all content and settings on the iPad. Take your iPad back to the original factory settings and completely free of personal information by following these steps. This process deletes everything off the iPad, sync with iTunes if you need a backup.
Click on the Settings icon from the home screen.
From the General page, select Reset at the very bottom of the page.
Tap on Erase all content and settings from the list. This option will remove all your information, pictures and videos. All iPad settings will be set back to their original value.
If youre using a passcode youll need to enter it here.
Confirm (twice) to delete all your media and data by clicking on Erase.
Thats pretty much it, your iPad is clean of all personal data and ready for the new user.